Celebrate Summer
6:30pm Wednesday 6 December
The Pizza Library Papamoa
898 Papamoa Beach Road, Papamoa Beach, Papamoa 3118
Georgia Connolly
Georgia is our amazing Lead artist in Tauranga.  She is Irish born and bred and her passion is sharing art with the world. She is a creative, expressive artist with a love for teaching and collaboration. She is known to encourage a loose wrist and an open mind. Art is about ones own expression.
Sale
Sold out
Regular price
Sale price
$47.00
Unit price
per
Let your creativity run wild with this painting – it's like a blank canvas for your wine label dreams! If Christmas trees aren't your jam, feel free to paint anything your heart desires.
The concept is simple - take a brush in one hand, a drink in the other, now let's paint a masterpiece!
Join us for a creative night of drinking and painting in Papamoa! No previous painting experience necessary! Get your creative juices flowing and your brush strokes going!
This ticket does not include a complimentary drink on arrival.

What's included
Approx. 2 hour step-by-step painting session led by our experienced artist and assistants.
All painting materials needed to complete your masterpiece.
Acrylic paint on high-quality stretched canvas (or canva's paper for watercolour).
Photos taken throughout the session & posted on our Facebook page.
Heaps of fun exploring your creative side.
A one-of-a-kind masterpiece to take home.
and best of all - we clean up!
Our events are now carbon negative 🌱 so you can enjoy them guilt-free. Learn more.
Can't make it this time? Why not send us your details so that we can notify you when it returns?
Address

898 Papamoa Beach Road, Papamoa Beach, Papamoa 3118

Date

06/12/2023

Time

6:30pm to 8:30pm (Arrive for 6:15pm, painting starts at 6pm)

Food

Food can be purchased from the Pizza Library's menu throughout Paintvine events. We recommend coming early for dinner before the event!

Phone

07 542 0058

More info

There's more about The Pizza Library Papamoa in our Venues blog.
---
Frequently-asked questions
What can I expect from a Paintvine event?

Most importantly a FUN and CREATIVE evening. Your experience will start by arriving and checking in at the venue 10-15 minutes beforehand. Grab yourself a drink and apron from the bar, find your seat, socialise with your peers and get comfy before the session starts. We provide you with everything you need to complete your painting and one of our skilled artists will take you step-by-step through the featured painting of the session. Best of all, there is no experience required and all Paintvine events are judgement free. After two hours of painting, drinking and laughing, you will have a completed your masterpiece that you get to take home with you! We also take photos throughout the night which we post to our social pages (Facebook, Instagram etc.) and no cleaning at the end of the night, we take care of all that.
Are your events R18?

Yes, unfortunately for all public events (ones we sell on our website) we host at bars or restaurants are all age restricted to R18 and over. For events that we hold in public spaces (such as parks or beaches) there is no age restriction. For Private events, this is a case by case basis fully dependent on our partner venues.
Will I receive a ticket?

Our events are all ticketless. Your details are noted at purchase and will be checked at the door/event entry when you arrive. However, to make this process quick please have your event purchase details ready when you check in to your Paintvine event.
How much is it and what's included in my session?

All Paintvine events vary and the current price is on the event itself. We provide all the necessary directions and guidance from one of our skilled artists as well as all painting supplies including canvas, paint, brushes and aprons. You get to take your painting home at the end of the night (woohoo).
Do I have to paint the featured painting?

No way. The great thing about Paintvine is the freedom to create a unique painting of your own. You're welcome to follow along with the artist or go your own way and create a one-of-a-kind. Add your own colours, shape, or textures to your painting to suit your home decor or personal preference, it's totally up to you! You'll be pleasantly surprised at how everyone's paintings come out different at the end.
What should I wear?

We provide aprons that should protect you, but after a few glasses of wine and a whole lot of fun, you might find paint in unexpected places. We recommend wearing clothes you don't mind getting a drop or two of paint on.
Do you hold group or Corporate events?

Yes, absolutely. Simply send us an email to hello@paintvine.co.nz and one of our team will arrange a suitable time and venue for your needs. A Paintvine event is great for any occasion.
What is your no-show or cancellation policy?

Sorry, but no-shows will not be rescheduled. All tickets sold are done so on a no refund, exchange or cancellation basis. You agree to these conditions when a purchase is made. If you would like to rebook your tickets to another date, you'll be subject to a $25 rebooking fee, this is waived if you buy a Paintvine Promise at ticket purchase. Please ensure all details are correct at the time of purchase so no problems arise.
---
Terms and conditions
Show

General terms

- In purchasing tickets or products from Paintvine, you agree to be bound by these terms and conditions.

- Unless otherwise stated, no BYO (bring your own) is allowed. Our venue partners have low-alcoholic and non-alcoholic options available for purchase and water is always provided for free.

- Be respectful of the experience. You agree to respect other guests, our team, and Paintvine property and to follow guidance of our team, to refrain from speaking over instructions and hindering the experience for other guests.

- If you disrespect the experience you may be refused entry or asked to leave the premises. Under no circumstances will a refund be issued.

- We accept no responsibility for any losses or damage incurred to personal belongings or clothing, and ticket holders should dress appropriately to the activity.

No-shows and refunds

- All tickets sold are sold on a no refund, exchange or cancellation basis. Please ensure all event and ticketing details are correct at the time of purchase so no problems arise.

- 'No shows' (where you do not show up for your event) will not be rescheduled or refunded. Under no circumstance will a refund be issued for any event.

Rebooking

- If you are unable to attend your ticketed event for any reason, you are able to rebook your Paintvine event (or get credit) upto 48 hours prior to the start of your event for a flat fee of $25 per ticket.

- Unfortunately, you will not be able to rebook (or get credit) your event within 48 hours of your evening commencing, unless you have purchased a Paintvine Promise.

Paintvine Promise

- Gives the holder the option to reschedule or cancel (for Paintvine credit) their ticket at any time prior to their ticketed event starting.

- Must be held for each ticket purchased. Eg 2 tickets = 2 Paintvine promises purchased.

- Waives any rebooking or refund fees.

- The holder is entitled to only ONE free reschedule or credit issue.

- It must be purchased at time of booking.

- Exclusions, including but not limited:

Does not apply to gift cards or product sales.
Does not apply to private functions.
Does not apply to events cancelled or postponed by Paintvine Limited.
Where credit is issued in lieu of rebooking, the cost of the Paintvine promise will not be refunded.

Covid-19

- All of our events will strictly adhere to our covid-19 safe guidelines.

- In the unlikely event that a movement (up or down) of the covid alert level system system results in Paintvine having to cancel or postpone your ticketed event, we will not offer cash-refunds to you. Instead, we will issue the ticket purchaser a full credit upto the full ticket price paid, valid to use for 24 months from purchase for any Paintvine product or service.

- At events and venues where valid vaccination certificates are required under the covid-19 protection framework all ticket holders must present a valid vaccination certificate (or exception) in order to attend the event. Ticket holders unable to present a valid vaccination certificate (or exception) will under no circumstances, be entitled to a refund.

View our full ticketing terms and conditions, privacy policy and pledge to be carbon negative.
Other Tauranga & Mt Maunganui events you might like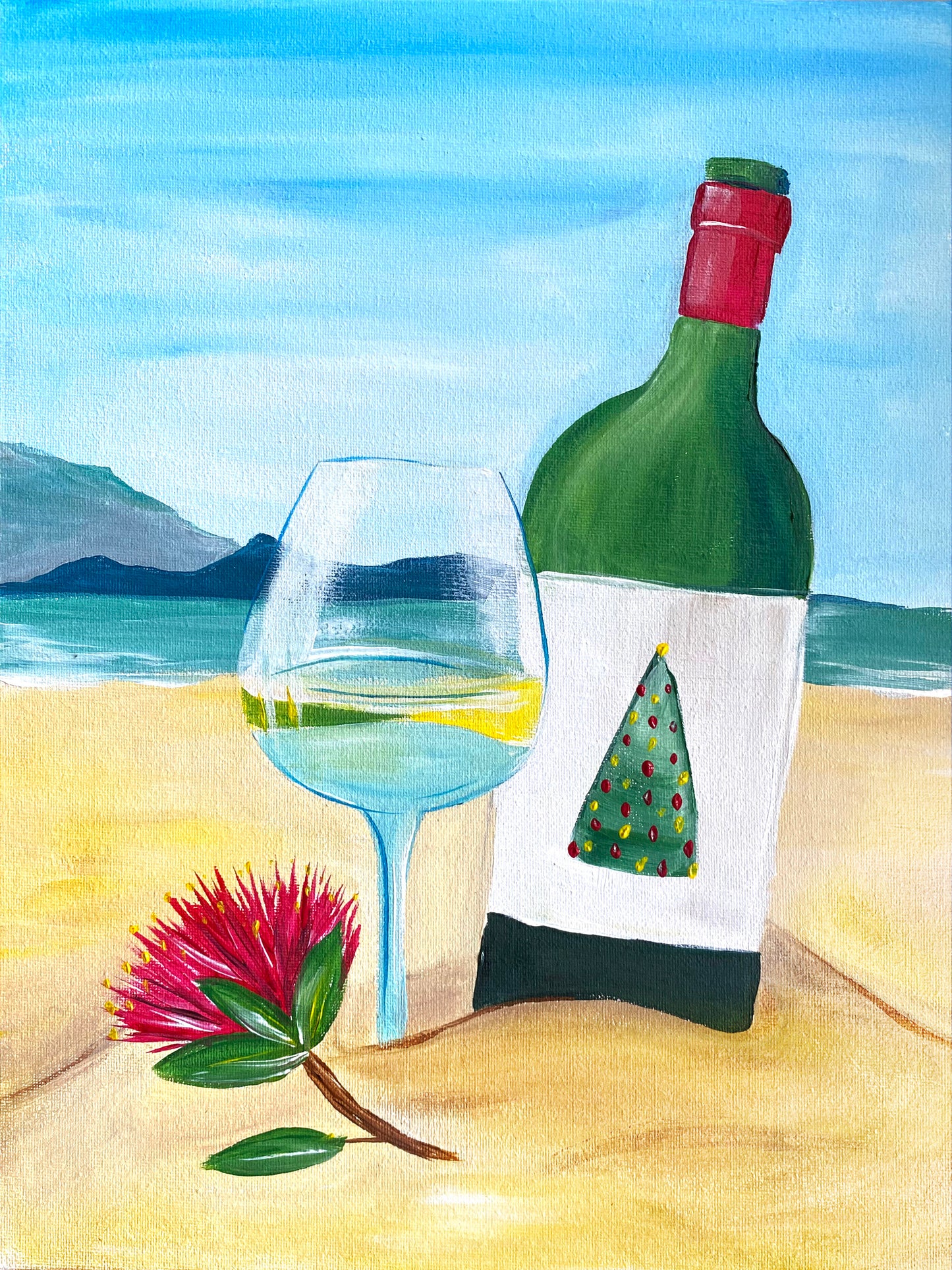 Choosing a selection results in a full page refresh.
Opens in a new window.