Unleash your inner artist at New Zealand's favourite paint and wine night
Paintvine is a fun night (or afternoon) full of creativity and laughter - no artistic ability required!
Have fun unleashing your inner artist

Join over 25,000 Paintviners and be amazed at how artistic you really are!

Find an event or create a private one

Bring your friends, dates, or team-mates. Or just enjoy some creative me time with us.

Everything you need will be provided

Your expert artist and team will have everything ready for you, including a clean apron.

Take your new masterpiece home!

We'll tidy up, you just worry about where you're going to display that bad boy.
Christmas is better with a splash of paint, don't you think? 🎄
'Tis the magical season where creativity dances in the air, so let's grab our brushes and jingle all the way to a Christmas filled with joy, laughter, and the vibrant hues of festive brushstrokes!

Whether you're a seasoned artist or just starting your creative journey, Christmas gets a whole lot merrier with a splash of paint. Don't miss out!
Get Tickets
Unique creative experiences await you
Check out hundreds of reviews from creative and fun Kiwis like you!
"You don't have to be Vincent Van Gogh to be part of this blasting fun event! You get to relax and chill as well as complete your masterpiece in about 2 hours."
Anastacia Song
"I have never painted before but we were given a lot of support and guidance from the artist and I left feeling quite proud of my masterpiece 😊"
Tiffany Botting Emett
"So much fun! I can't paint to save myself but that didn't matter, it was brilliant fun! 100% would recommend and already have to my friends!"
Ella Rae
4.9 out of 5
5 out of 5
Frequently Asked Questions
What can I expect from a Paintvine event?

Most importantly a FUN and CREATIVE evening. Your experience will start by arriving and checking in at the venue 10-15 minutes beforehand. Grab yourself a drink and apron from the bar, find your seat, socialise with your peers and get comfy before the session starts.
How much is it and what's included in my session?

All public Paintvine events are priced on each event (select your city in the menu above to find your closest venue and the ticket price). We provide all the necessary directions and guidance from one of our skilled artists as well as all painting supplies including canvas, paint, brushes and aprons. You also get to take your painting home at the end of the night (woohoo!)
Do I have to paint the featured painting?

No way. The great thing about Paintvine is the freedom to create a unique painting of your own. You're welcome to follow along with the artist or go your own way and create a one-of-a-kind. Add your own colours, shape, or textures to your painting to suit your home decor or personal preference, it's totally up to you! You'll be pleasantly surprised at how everyone's paintings come out different at the end.
What should I wear?

We provide aprons that should protect you, but after a few glasses of wine and a whole lot of fun, you might find paint in unexpected places. We recommend wearing clothes you don't mind getting a drop or two of paint on.
Awards? We've
won a few!
A Paintvine gift card is a unique and memorable gift for someone special.

Paintvine is perfect for team-building, birthdays, and hen-dos.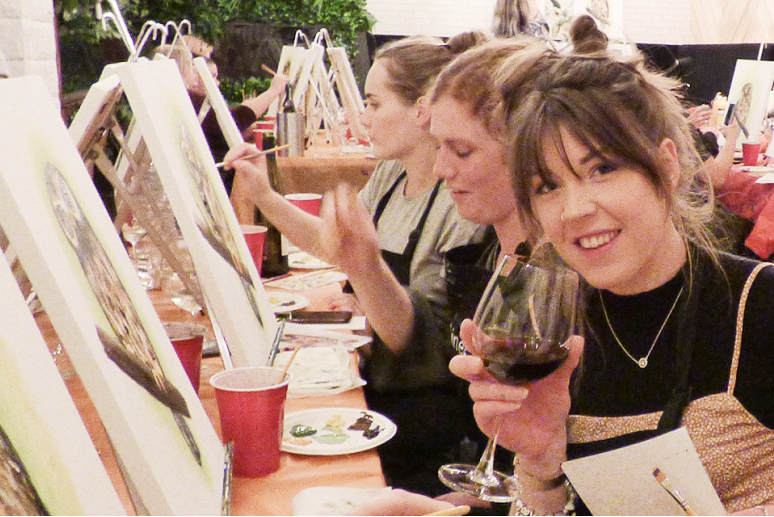 Unleash your inner artist!
Discover a different night out, pick your experience and see why Paintvine is New Zealand's favourite new event!
Find an event