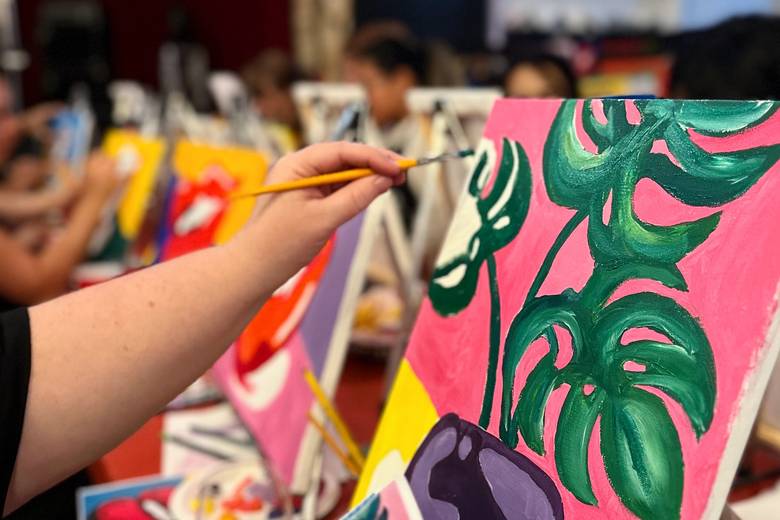 Channel your inner Andy Warhol, and paint Pop Art with Paintvine!
Are you ready to entice your inner artist by experimenting with the style of Pop Art? Pop Art is all about incorporating everyday objects and popular culture into your artwork. It's a fun and playful style that emerged in the 1950s and 1960s, made popular by artists such as Andy Warhol, and is still loved today.
No previous experience necessary!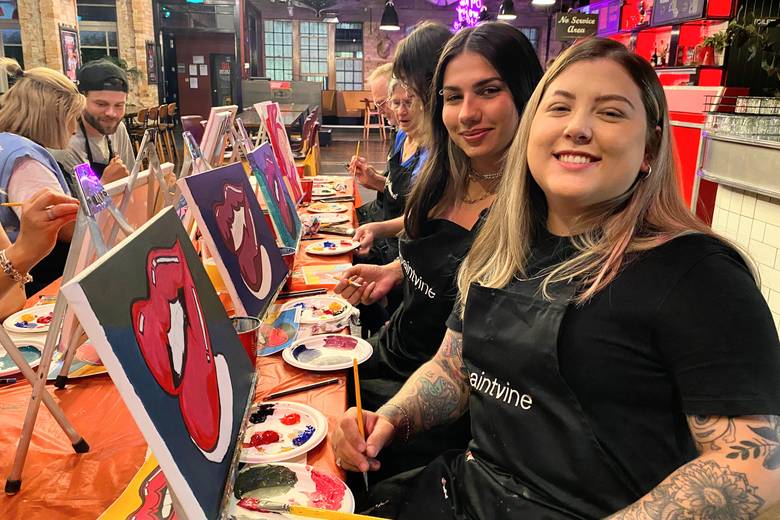 What to expect, and how it works
We'll teach you the key techniques of Pop Art and give you plenty of opportunities to experiment and explore. Step-by-step, our Instructor will guide you on how to make your very own masterpiece that truly pops!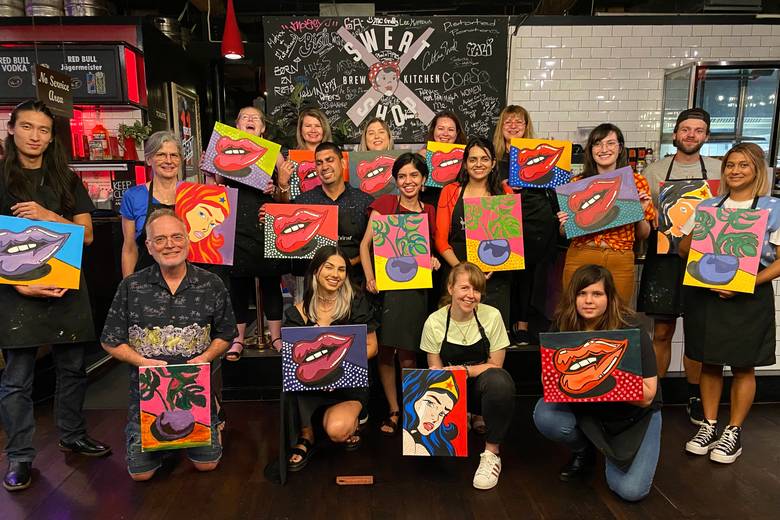 Paint the night away
Perfect for individuals, couples, or groups of friends ready for some bold glamour art!
Ugh, sorry!
While we add new events every week, none like this are planned right now. To find upcoming events near you, click here.
Frequently-asked questions
What can I expect from a Paintvine event?

Most importantly a FUN and CREATIVE evening. Your experience will start by arriving and checking in at the venue 10-15 minutes beforehand. Grab yourself a drink, order some food, find your seat, socialise with your peers and get comfy before the session starts. We provide you with an apron and everything you need to complete your painting and one of our skilled artists will take you step-by-step through the featured painting of the session. Best of all, there is no experience required and all Paintvine events are judgement free. After two hours of painting, drinking and laughing, you will have a completed your masterpiece that you get to take home with you! We also take photos throughout the night which we post to our social pages (Facebook, Instagram etc.) and no cleaning at the end of the night, we take care of all that.
Do I have to paint the featured painting?

No way. The great thing about Paintvine is the freedom to create a unique painting of your own. You're welcome to follow along with the artist or go your own way and create a one-of-a-kind. Add your own colours, shape, or textures to your painting to suit your home decor or personal preference, it's totally up to you! You'll be pleasantly surprised at how everyone's paintings come out different at the end.
What should I wear?

We provide aprons that should protect you, but after a few glasses of wine and a whole lot of fun, you might find paint in unexpected places. We recommend wearing clothes you don't mind getting a drop or two of paint on.
Do you hold group or Corporate events?

Yes, absolutely. Simply send us an email to bookings@paintvine.co.nz and one of our team will arrange a suitable time and venue for your needs. A Paintvine event is great for any occasion.
What is your no-show or cancellation policy?

Sorry, but no-shows will not be rescheduled. All tickets sold are done so on a no refund, exchange or cancellation basis. You agree to these conditions when a purchase is made. Please ensure all details are correct at the time of purchase so no problems arise.
Sign up to get the latest Pop Art events direct to your inbox.