Get better work stories with these fun team building ideas
Last updated 28 June 2023
Team building is like the glue that holds corporate or private groups together. It's all about trust, good communication, and working together like a well-oiled machine.
When you've got a team that's firing on all cylinders, you'll create a work environment that's positive, productive, and unified around a common goal. Let's do this thing!
Why Team Building Activities Are Important
Team building activities are seriously effective at making sure everyone communicates well and gets along. Plus, when you do these activities, you're building trust and relationships, which helps everyone work together better and come up with awesome ideas.
It's not just about getting everyone to like each other, either - team building activities can help you figure out what you're good at and what you need to work on.
Team building activities can also encourage creativity by promoting open-mindedness, collaborative brainstorming, and the exploration of new ideas and perspectives. So it's a win win!
What makes a good team building activity?
A great team building activity is something that involves everyone - it's all about teamwork, communication, and problem-solving. It's got to be fun too! Everyone should feel like they accomplished something and are closer as a team afterwards.
Top 20 team building ideas
1. Get Creative with Paint and Wine
The concept is simple - take a brush in one hand, a drink in the other, and paint a masterpiece - no artistic experience necessary!
When you do a Paintvine event, you're not just hanging out together, you're creating together! And that's how you build a tight-knit team that can handle anything.
Plus you can turn your office into an art gallery by displaying your teams finished artworks!
2. Outdoor Adventure Challenge
Plan a day of outdoor activities. We're talking ropes courses, hiking, kayaking, and more to get everyone working together, building trust, and crushing challenges.
3. Orchestrate!
In this completely unique team building activity, you can take a team with zero musical chops, and turn them into a full-fledged symphony orchestra in just 90 minutes!
They'll learn to play actual instruments like strings, woodwind, brass, and percussion, and perform an electrifying, specially-written five-minute-long piece of music. It's a truly exhilarating experience!
4. Solve a Murder Mystery
Experience the thrill of in-person and online murder mystery events. Choose from CluedUp's 'Who-dunnit' murder mystery with professional actors or their 'You-dunnit' style where you provide the suspects.
A murder mystery team building event offers versatile and engaging options for team building, and will ramp up your teams problem-solving skills in a fun way.
5. Give Back with a Beach Clean Up
Consider a beach clean-up with Sustainable Coastlines, where your team can have a blast while bonding with nature and each other, actively contributing to resolving environmental challenges our rivers and oceans face.
Sustainable Coastlines provide customised team-building events that offer not only environmental benefits, but also a memorable and enjoyable experience for your staff.
6. Escape Room Experience
Gear up for an exciting team-building event at an escape room facility, where your team will have a blast solving puzzles, finding clues, and racing against the clock to escape.
It's a fun and immersive experience that promotes problem-solving and teamwork, bringing everyone closer together.
7. LEGO Building Challenge
Let your team rediscover the joy of building with LEGO with a Bricks 4 Biz Corporate Team Building function!
Choose from three core programs: LEGO® Building Challenge, LEGO® Serious Play, and LEGO® Engineering Challenge. With all the bricks, facilitators, and direction provided, your team can have a blast while getting creative.
8. Scavenger Hunt
Create an adventure-filled team-building experience by organising a scavenger hunt that encourages collaboration, problem-solving, and effective communication through engaging clues and exciting challenges.
The best part is, you can easily create this within your team, so it perfectly suits your fellow worker's preferences.
9. Paintball
Blast away any work stress with an adrenaline-pumping team-building adventure with paintball!
Unleash your competitive spirit, strategise with your teammates, and have a blast as you engage in thrilling paintball battles that will strengthen team cohesion and create unforgettable memories.
10. Experience Dragvine - The Worlds First Paint and Dragshow
Get ready for a side-splitting team building event with Paintvine's Dragvine event, where NZ's premier Drag queens will lead you through a unique painting experience.
With hilarious hosts guiding you step-by-step while entertaining and performing, Dragvine offers a creative journey that guarantees laughter, artistic fulfillment, and a memorable time for everyone involved.
11. Turn Your Team into a Band
With a StarJam team building event, your team will engage in music and performance-based workshops, collaborate in small groups, and deliver mini-performance pieces, creating a memorable and impactful experience.
Discover your teams inner creativity and hidden talent, while having fun and learning a new skill!
12. Sculpt and Wine Workshop
Get your teams hands dirty with clay, and experience the joy of sculpting together with Paintvine Sculpt!
It's a fun and engaging team-building activity that promotes patience, focus, and a sense of accomplishment, all while bonding and creating memorable artworks as a team.
13. Cooking or Baking Classes
Spice up your team-building experience with a cooking or baking class that promises a delectable blend of fun, laughter, and culinary creativity.
Get your aprons on, sharpen those chef skills, and indulge in a mouthwatering adventure where your team can bond over delicious dishes and sweet treats, turning up the heat on camaraderie and creating unforgettable memories.
14. Beat the Tweet
Looking for a unique and flexible team-building idea? Look no further than 'Beat the Tweet'! This interactive activity challenges your team to solve puzzles and hunt for answers on Twitter, all within 140 characters.
With the freedom to organise it at any location and no more than a smartphone required, your team will embark on a creative and collaborative adventure, discovering hidden rewards while tackling quizzes, riddles, and creative challenges along the way.
15: Organise a Quiz Night
Put your teams knowledge to the test and have a blast with a thrilling quiz as your team building activity!
Challenge your colleagues to a friendly competition filled with brain-teasing questions, laughter, and a chance to showcase your trivia prowess, all while creating a fun and casual atmosphere that strengthens bonds and guarantees an unforgettable time together.
16. Paint Party in the Dark
Get your teams creative juices flowing and their brush strokes going with ultra-violet lights, glow in the dark paint and nothing but laughs all night long!
Paintvine's After Dark paint party is a totally unique experience that is guaranteed to create lasting bonds and camaraderie.
17. Gourmet Picnic and Games
Treat your team to a gourmet picnic and head to a local park for some fun team bonding games like relay races, tug-of-war.
These games are simple to organise and encourage teamwork, communication, and friendly competition. Bring along a pack of cards or some boardgames as well, to offer enough variety that there's something for everyone.
18. Attend a Comedy Gig
Laugh your hearts out and bond as a team with a comedy gig for your next team building activity!
Immerse yourselves in a night of hilarious jokes and witty performances that will create a relaxed and fun atmosphere, leaving everyone with a memorable and side-splitting experience.
19. Charter a Boat
Set sail on an unforgettable team building adventure by chartering a boat! Enjoy the thrill of cruising the open waters, basking in the sun, and engaging in fun water activities.
20. Virtual Team Building Activities
Try a virtual escape room adventure where your team can solve puzzles and unravel mysteries together, or host a virtual game night filled with interactive quizzes, and friendly competition.
It's a fantastic easy way to bond remotely, have a blast, and create lasting memories despite the distance.
Top Tips to Make Your Team Building Activity Memorable
Choose the right activity: Select an activity that aligns with your team's interests, goals, and preferences to ensure everyone is engaged and excited.
Set clear objectives: Define clear objectives for the team building activity, whether it's fostering communication, enhancing problem-solving skills, strengthening teamwork or simply boosting morale.
Create a positive atmosphere: Foster a positive and inclusive atmosphere throughout the activity, encouraging open communication, respect, and a sense of belonging.
Incorporate variety: Mix up the activities and challenges to keep the energy high and prevent monotony. Include a blend of physical, mental, and creative tasks to cater to different team members' strengths.
Encourage collaboration: Design activities that require collaboration and cooperation among team members, promoting teamwork and the sharing of ideas.
Provide constructive feedback: Encourage participants to offer constructive feedback to each other, promoting growth, and fostering a supportive environment.
Inject fun and humour: Infuse the activity with elements of fun, humour, and lightheartedness to create an enjoyable and memorable experience for everyone involved.
Capture the moments: Document the team building activity through photos or videos to preserve the memories and allow team members to reflect on the experience later.
Celebrate achievements: Recognise and celebrate individual and team achievements throughout the activity, emphasising the importance of teamwork and acknowledging everyone's contributions.
Follow up and reflect: After the activity, facilitate a follow-up session where team members can reflect on what they've learned, discuss key takeaways, and brainstorm ways to apply those lessons in the workplace.
Ready to book and unforgettable team building event?
Planning a memorable corporate event is made easy with these top 20 fun and engaging team building ideas.
The best team building ideas encourage collaboration, break people out of their comfort zones and create a sense of belonging within the team. The most important thing to consider is that it's inclusive and fun!
Remember, it's all about considering your collegues personalities, and what the goal of the team building session is.
While planning, consider a personalised creative class with Paintvine. With a bit of planning and a lot of heart, your team building event will be the talk of the water cooler for months to come!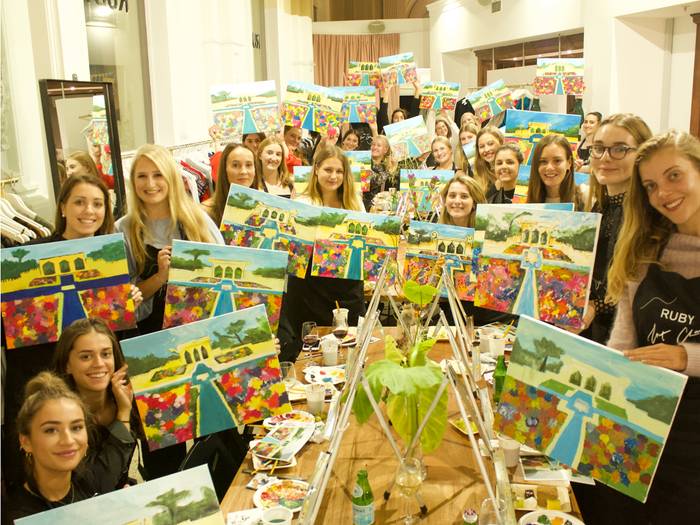 Treat your team
Connect, unwind and celebrate with your team with a personalised Paintvine event.
Start planning