The Ultimate Baby Shower Party Ideas
Last updated 17th November 2023

Are you expecting a little bundle of joy soon or planning a baby shower for someone special in New Zealand? If you're searching for creative and unforgettable baby shower ideas, you've come to the right place.

We've curated a list of Baby Shower Party Ideas in New Zealand that will help you celebrate this joyous occasion in a unique and memorable way.


1 - Paintvine Paint and Sip
Baby Shower Paint and Sip is a delightful twist on the traditional baby shower. Hosted by Paintvine, this event allows you and your guests to enjoy a guided painting session while sipping on your favourite drink. It's a creative and entertaining way to celebrate the upcoming arrival of your little one.
💰 Approx. cost per person: $39 - $74
2 - Outdoor Garden Picnic
New Zealand is renowned for its breathtaking natural beauty. Why not embrace the outdoors with an Outdoor Garden Picnic? Set up a beautiful picnic spot in a scenic garden or park, complete with cozy blankets and a selection of delectable treats. Your guests can enjoy the fresh air and celebrate the upcoming arrival in style.
💰 Approx. cost per person: $20 - $60


3 - Beachside Baby Shower
New Zealand boasts stunning coastlines, and a Beachside Baby Shower is a fantastic way to celebrate while enjoying the sound of waves and the feel of sand between your toes. Decorate your chosen beach spot with beach-themed baby shower decorations and create unforgettable memories by the water.
💰 Approx. cost per person: $30 - $80


4 - Baby Shower Brunch
For a more traditional yet elegant option, consider hosting a Baby Shower Brunch. Choose a charming cafe or restaurant with a picturesque view and treat your guests to a delectable brunch menu. This option combines the joy of celebrating with the delight of delicious food.
💰 Approx. cost per person: $25 - $50


5 - Baby Shower Paintvine Clay Sculpting
For an artistic and hands-on experience, consider a Baby Shower Paintvine Clay Sculpting event. This unique activity allows guests to sculpt clay and create memorable keepsakes, all while celebrating the imminent arrival of the baby.
💰 Approx. cost per person: $39 - $74
➡️
Find out more

6 - Pampering Spa Day
Pregnancy can be a demanding journey, so why not treat the mom-to-be and guests to a Pampering Spa Day? Book a spa or wellness center for a day of relaxation, massages, and beauty treatments. It's a wonderful way to unwind and celebrate in tranquility.
💰 Approx. cost per person: $80 - $150
7 - Baby Shower Adventure
If you and your friends are adventurous spirits, opt for a Baby Shower Adventure day. Embark on a fun and exciting activity such as a scenic hike, kayak trip, or even a hot air balloon ride. Celebrate this special moment with an adrenaline rush and breathtaking views.
💰 Approx. cost per person: $50 - $150

8 - Themed Costume Baby Shower
Embrace the joy of dressing up by hosting a Themed Costume Baby Shower. Encourage your guests to don creative and fun costumes that match a specific theme, adding a playful and memorable twist to your celebration.
9 - Baby Shower Trivia Game
Challenge your guests' knowledge with a Baby Shower Trivia Game. Prepare a list of baby-related questions and see who can answer the most correctly. Offer small prizes to make it even more exciting.





What are good baby shower ideas?
When it comes to hosting the best baby shower ever, focus on creating engaging entertainment, interactive activities, and memorable experiences. By incorporating unique and fun ideas.

Who pays for the baby shower?
Traditionally, a baby shower is hosted and paid for by a close friend or family member of the expectant mother. However, in modern times, it's not uncommon for multiple people to contribute or for the expectant parents to host their own baby shower.


What is a gift for baby shower?
Choosing the perfect baby shower gift is all about thinking of what the parents need and celebrating the upcoming little one. You can go practical with diapers and wipes or add a cozy touch with cute baby clothes and soft blankets. Whatever you choose, adding a personal touch or a heartfelt card makes the gift even more special.

Ready to plan your unforgettable Baby Shower in New Zealand?


Whether you choose to embrace your artistic side with Paintvine, enjoy a beachside celebration, or embark on an adventurous journey, your baby shower will be a memorable and festive occasion.
Don't forget to consider Paintvine for your celebration, It's a distinctive and creative way to celebrate that will leave a lasting impression on everyone. With thoughtful planning and a touch of warmth, your baby shower will be the talk of the town.
Make your celebration unforgettable, and let the excitement for your baby's arrival shine through!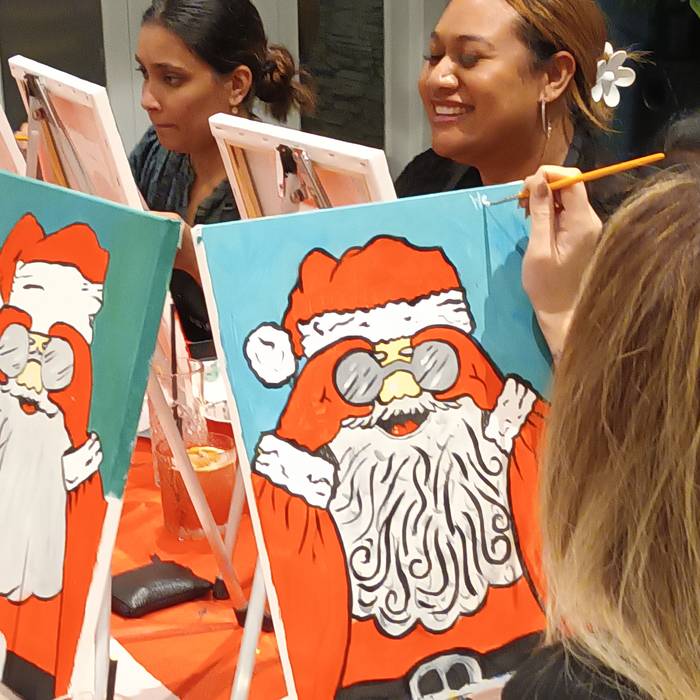 Get creative this Christmas
A Paintvine Christmas party will give your loved ones jolly memories as well as a masterpiece to take home.
Start planning