The Ultimate Birthday Party Ideas
Last updated 17th November 2023
Hey, party starters! 🎉 Get ready for a birthday bonanza that's as lively as the heart of your celebration. Whether you're a seasoned party pro or a first-time planner, buckle up for a ride through creative and fun-filled ideas to make your birthday celebration in the nation absolutely unforgettable.
1 - Paintvine Paint and Sip Extravaganza
Why limit painting to canvases? Spice up your birthday with a Paintvine paint and sip event amidst special places. Uncork your creativity while soaking in the beauty of the surroundings!
💰 Approx. cost per person: $39 - $74
2 - Brews Bus Tour
Dive into the crafty side of your celebration with a Brewbus tour. Explore local breweries, sample unique brews, and turn your birthday into a hoppy celebration right in the heart of the nation!
💰 Approx. cost per person: $125
3 - Food Truck Fiesta Delight
Turn your birthday into a foodie's paradise! Bring in the finest food trucks to your party venue, letting your guests indulge in a variety of mouthwatering dishes for an unconventional dining experience.
💰 Approx. cost per person: POA
4 - Escape to Fun with Paintvine Clay Sculpting
Elevate your birthday bash to an artistic level with a Paintvine clay sculpting event. Let your guests sculpt, shape, and craft memorable keepsakes that capture the essence of your celebration.
💰 Approx. cost per person: $39 - $74
5 - 12 Rounds of Party Games
Get ready for a fun-filled competition! Host a dynamic and interactive game show where teams compete for the title of Birthday Champions. It's a surefire way to add laughter, teamwork, and heaps of festive fun to your celebration.
💰 Approx. cost per person: Minimal
6 - Jandal Toss Challenge
Looking for a Kiwi-style horseshoes challenge? Swap the traditional game for a jandal toss, adding a relaxed yet competitive element to your birthday festivities.
💰 Approx. cost per person: Minimal


7 - Picnic Party Extravaganza
For a laid-back and charming birthday, opt for an afternoon picnic. With festive treats from the Little Lunch Company, enjoy a birthday picnic amidst the beauty of your chosen venue.
💰 Approx. cost per person: $20 - $90


8 - Live Tunes and Wines Celebration
Celebrate your birthday with live tunes at a local winery. Dance the night away while indulging in delectable gourmet cuisine and an extraordinary selection of wines. It's the perfect way to revel in the birthday spirit!
💰 Approx. cost per person: $105 - $205


9 - Get Creative with DIY Decor
Set up DIY decoration stations where guests can create ornaments, wreaths, or centerpieces. It's a hands-on way to engage everyone and make your party decorations truly personal.
💰 Approx. cost per person: Varies based on DIY supplies


10 - Interactive Karaoke Party
Sing your heart out to your favorite tunes with an interactive karaoke party. Provide song sheets, encourage everyone to join in, and make it a night to remember.
💰 Approx. cost per person: Varies based on karaoke setup
How to level up your party game?
Check out these top 10 ideas to kick-start the celebration:
T

hemed Costume Extravaganza: Encourage your guests to get creative with themed costumes. Whether it's a favorite movie character or a quirky theme, a costume party adds a playful twist to your celebration.
Live Music Serenade: Hire a local band or musician to serenade your guests with live music. It adds a festive ambiance and gets everyone in the party mood.
DIY Cupcake Decorating Station: Set up a DIY cupcake decorating station with various toppings and let guests create their own sweet treats. It's a delicious and interactive activity.
Birthday Trivia Challenge: Put your guests' knowledge to the test with a birthday-themed trivia challenge. Prepare a list of questions related to the birthday person, and see who knows them best.
Glow-in-the-Dark Dance Party: Turn off the lights and let the party glow with a glow-in-the-dark dance party. Provide glow sticks and accessories for an illuminated celebration.
Customized Photo Booth: Create a customized photo booth with props that reflect the birthday person's interests and hobbies. It's a fun way to capture memories.
Scavenger Hunt: Organize a scavenger hunt with clues leading to birthday surprises. It adds an element of adventure and excitement to the celebration.
Karaoke Roulette: Spice up karaoke with a roulette wheel that determines the song choice. It adds an element of surprise and keeps the karaoke session entertaining.
DIY Personalized Party Favors: Set up a station where guests can create their own personalized party favors. It could be anything from custom keychains to mini succulents.
Balloon Pop Countdown: Create a balloon-filled countdown to the birthday moment. Each balloon can contain a special message or a small surprise, adding anticipation to the celebration.
How to Host the Ultimate Birthday Bash
Ready to throw the ultimate birthday bash? Follow these tips to make your celebration truly exceptional:
Engaging Entertainment: Whether it's a live band, DJ, or a unique activity like Paintvine, choose entertainment that keeps the party vibes alive. Interactive entertainment creates lasting memories.

Interactive Activities: Keep your guests engaged with activities that spark conversation and laughter. Consider a DIY decoration station, a themed costume contest, or a personalized photo booth.

Memorable Experiences: Elevate your birthday bash by creating experiences that leave a lasting impression. Whether it's a unique venue, a live performance, or a creative activity like Paintvine, make it memorable.

Personalized Touches: Add personalized touches to the celebration. From custom decorations to a playlist tailored to the birthday person's favorite songs, it's the little details that make a big impact.

Effortless Flow: Plan the timeline of the celebration to ensure a smooth flow. Consider the order of activities, breaks for mingling, and ample time for everyone to enjoy the festivities.

Stay True to the Birthday Person: Keep the celebration reflective of the birthday person's personality and interests. Whether they love art, music, or adventure, tailor the celebration to their unique style.

Capture the Moments: Hire a photographer or designate a friend to capture candid moments throughout the celebration. Photos and videos create lasting memories that can be cherished for years to come.

Ready to plan your unforgettable Birthday Party?
These creative ideas offer a refreshing departure from traditional birthday parties and reflect the vibrant spirit of celebration. Whether you choose to embrace your artistic side with Paintvine, explore local cuisine, or test your knowledge with a fun quiz, your birthday party is sure to be a memorable and festive occasion.
Don't forget to consider booking a Paintvine event for a unique and creative experience. Get ready to celebrate in style and make memories that will last a lifetime! 🎉🎂🥳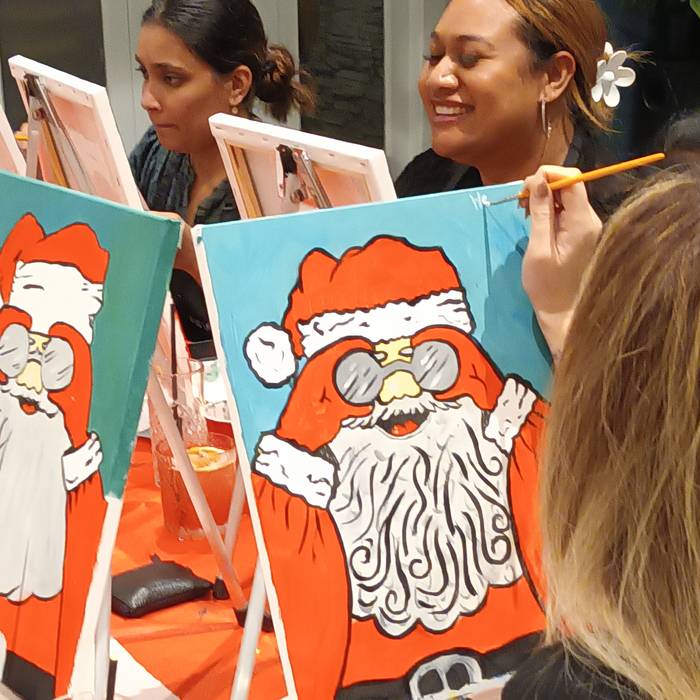 Get creative this Christmas
A Paintvine Christmas party will give your loved ones jolly memories as well as a masterpiece to take home.
Start planning