The Best Christmas Party Ideas in Auckland
Last updated 12th June
Do want to throw an epic Christmas party in Auckland? You're in for a treat! We've got a list of 20 awesome ideas to make your party unforgettable. From cruising on a festive boat to getting creative with painting classes, there's something for everyone.
So let's get into the holiday groove and check out these fantastic options for your Auckland Christmas party!
1 - Christmas Themed Cooking Class at Social Cooking:
Spice up your Christmas party with a dash of creativity! Join a lively and interactive Christmas-themed cooking class a hands-on experience. Whip up delicious holiday dishes while bonding with your friends or colleagues. It's a jolly and mouthwatering way to celebrate the season!
💰 Approx. cost per person: $99 - $129
2 - Wine Tasting at Villa Maria Estate
Raise your glass and toast to a fabulous Christmas party with a wine tasting. Immerse yourself in the festive flavors of New Zealand wines while surrounded by picturesque vineyards. It's a delightful way to savor the season and create lasting memories with your loved ones.
💰 Approx. cost per person: $40 - $80
3 - VIP Experience at SkyCity Auckland
Choose from a fancy dinner, exciting casino games, or a private event in one of their exclusive venues. SkyCity will make your celebration unforgettable with their luxurious and glamorous atmosphere.
💰 Approx. cost per person: $89 - $170
4 - Paintvine – Paint and Sip Event
Unleash your inner artist at a Paintvine painting and sip event that will make your Christmas party merry and bright. Grab a paintbrush, sip on your favorite beverage, and let your creativity flow. With festive tunes and a vibrant atmosphere, this painting experience is the perfect way to add a colorful twist to your celebration!
💰 Approx. cost per person: $34 - $74
5 - Holiday High Tea at Hotel DeBrett
Enjoy delicious finger sandwiches, tasty pastries, and flavorful teas with a festive touch. The cozy atmosphere and delightful treats will take you to a world of holiday joy.
💰 Approx. cost per person: $60 - $150
6 - Christmas Caroling at Auckland Town Hall
Get your guests together and spread the holiday spirit with a magical night of Christmas carols at the iconic Auckland Town Hall. Sing your hearts out to your favorite carols and create a symphony of holiday cheer. It's a heartwarming activity that will make your Christmas party really special.
💰 Approx. cost per person: Free
7 - Dinner at The Sugar Club
One of Auckland's best restaurants, the menu is full of tasty seasonal ingredients and flavours that will make your celebration a culinary delight. The cozy atmosphere and delectable dishes will make this an unforgettable experience.
💰 Approx. cost per person: $45 - $120
8 - Christmas Market Shopping
Browse the shops filled with one-of-a-kind presents, handmade decorations, and delicious snacks. It's the best time to find the perfect gifts for your family and friends while being surrounded by the enchanting holiday spirit.
💰 Approx. cost per person: $20 - $100
9 - Paintvine – Sculpture Making Class
Discover your artistic side with a fun sculpture class offered by Paintvine. Mold clay into beautiful holiday-themed sculptures with expert guidance and a joyful atmosphere. This interactive activity will bring out your inner artist and add a unique touch to your Christmas party.
💰 Approx. cost per person: $55 - $106
10 - Christmas Lights Bus Tour
Get on a bus decked out in Christmas decor and set off on an enchanting adventure through the city's most dazzling neighborhoods. Enjoy the sparkling displays, festive decorations, and cheerful atmosphere that will make your Christmas party truly magical.
💰 Approx. cost per person: $2 - $8
11 - Drag Queen Christmas Show at Caluzzi Bar and Cabaret
Make your Christmas party fabulous with a Drag Queen Christmas Show at Caluzzi Bar and Cabaret. Enjoy the incredible acts, glamorous costumes, and infectious energy of these talented performers. It's an evening of laughter, music, and joy that will make your celebration shine bright!
💰 Approx. cost per person: $109
12 - Team Building at Team Up Events
Test your team's limits with fun outdoor challenges like sail, survivor activity, or race. Build stronger relationships, improve communication, and create a feeling of togetherness among your team members in a thrilling and fun environment.
💰 Approx. cost per person: $50 - $80
13 - Paintvine – Watercolour Painting Class
Relax and explore your creativity by joining a watercolor painting class by Paintvine. Discover the techniques of this beautiful art and create your own holiday-themed masterpiece. With vibrant colors and a peaceful atmosphere, this class will bring a sense of calm and creativity to your Christmas celebration.
💰 Approx. cost per person: $33 - $64
14 - Cocktail Party at The Lula Inn
Celebrate the holiday season in style by hosting a fun cocktail party at The Lula Inn in Auckland. There, you can enjoy tasty cocktails, dance to upbeat music, and soak up the lively atmosphere. The bar has a tropical feel and a friendly vibe, making it the perfect place to party and have a good time.
💰 Approx. cost per person: $40 - $90
15 - Comedy Show at The Classic Comedy Club
Get ready to laugh all night long at The Classic Comedy Club! Bring your friends or colleagues and enjoy a hilarious evening of side-splitting jokes and witty performances by talented comedians. It's the perfect way to spread cheer and have a great time!
💰 Approx. cost per person: $45- $60
16 - Cocktail Masterclass with Black Pineapple Co:
Get your work team, clients or friend group together for an unforgettable hands-on cocktail making experience. Our expert bartender / presenters will share insider tips, tricks and techniques on this journey of delicious discovery.
💰 Approx. cost per person: $85
17 - Deck the Holes with Holey Moley
Whether you're putt-ing your way around the craziest round of mini golf you've ever played, sinking specialty cocktails or getting deep in our delicious range of catering options, we've got the perfect place for your next event. With packages to suit every budget, it's time to get all the friends together. Get in early to make sure you don't miss out!
💰 Approx. cost per person: $35 - $79
18 - Charter a boat with Fleet
Treat your employees to a memorable day on the water by renting a boat from Auckland Harbour. Cruise over calm waters, enjoying hopefully sunny skies, and celebrate the end of the year in nautical style.
💰 Approx. cost per person: $200 - $400
19 - A day at the winery on Waiheke Island
Take your team to Waiheke Island for a day of fun activities, a tour of the island's delicious food, and a long lunch at one of the many wineries. Stay until sunset!
💰 Approx. cost per person: $50 - $150
20 - Cooking Classes at Fish Market
Their cooking classes are designed to teach you how to prepare delicious seafood dishes. Whether you're a beginner or an experienced home cook, they have a class that's perfect for you and your team.
💰 Approx. cost per person: $80 - $150
How do you throw an amazing Christmas party?
To throw a memorable Christmas party for coworkers, start by choosing a festive theme and decorating the venue. Plan a menu and include fun team-building games like gift exchanges or holiday trivia to bring everyone together. By creating a warm and inviting atmosphere, you can boost morale and make lasting memories with your team. Spread holiday cheer and let the festivities begin!
How to host a Budget-Friendly Christmas Party?
To host an affordable Christmas party, focus on the joy of the occasion and get creative! You can set a realistic budget, choose affordable venues, explore potluck or catering options, use DIY decorations, plan simple activities, and incorporate a Secret Santa gift exchange. This will help you create a memorable and enjoyable event for your colleagues without overspending. Remember, it's the camaraderie and festive spirit that truly make the party special, so embrace the opportunity to celebrate together and have fun!
Ready to book and unforgettable Christmas party?
Throwing an unforgettable Christmas party in Auckland is easier than ever with these 20 fantastic ideas. From cooking classes to wine tasting, there's something for every taste and budget.
Don't forget to consider booking a Paintvine event for a unique and creative experience. Get ready to celebrate the season in style and make memories that will last a lifetime!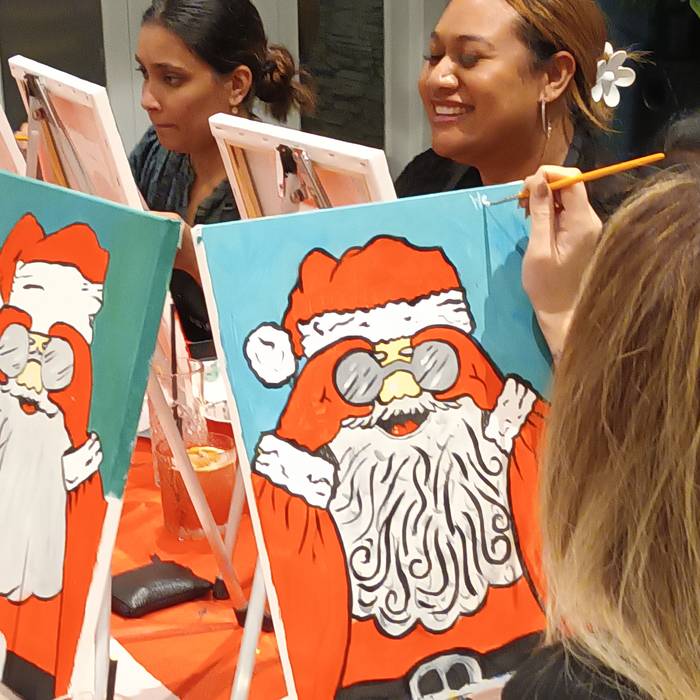 Get creative this Christmas
A Paintvine Christmas party will give your loved ones jolly memories as well as a masterpiece to take home.
Start planning