The Best Date Night Ideas in Auckland
Last updated 10th November 2023
Are you looking for exciting and unique date night ideas in Auckland? Whether you're a local or just visiting this vibrant city, Auckland has a lot to offer when it comes to romantic, fun and totally unique date nights.
From sipping wine while unleashing your artistic side to enjoying fabulous drag shows, Auckland is the perfect place for unforgettable moments.
We've put together a list of the top 20 date night ideas that will make your time together special, fun and memorable.
1 - Paintvine Paint and Wine Event
Get creative with your partner at a Paintvine event. Sip on your favourite drinks while expert artists guide you step-by-step to paint a masterpiece. It's a great way to break the ice, bond and explore your creative side in a fun, judgement-free environment.
💰 Approx. cost per person: $39 - $57
2 - Stardome Observatory
Experience the wonders of the universe together at the Stardome Observatory. Enjoy stargazing, planetarium shows, and celestial insights.
💰 Approx. cost per person: $5 - $20
3 - Auckland Art Gallery Toi o Tāmaki
Immerse yourselves in art and culture at the Auckland Art Gallery. Explore beautiful exhibitions and spark interesting conversations about the world of art.
💰 Approx. cost per person: Free - $25
4 - Karaoke Night
Sing your hearts out, laugh together, and create unforgettable memories with a karaoke date night at the Vodka Room. You might even partake in a duet! 
💰 Approx. cost per hour: $30 - $60
5 - The Classic Comedy Club
The Comedy club and bar is an Auckland icon, and a must do for date nights. They have up to 7 shows a week, and offer a cosy intimate environment.
💰 Approx. cost per person: $22 - $42
6 - Paintvine Clay Sculpting
At a Paintvine sculpt event, you and your date can get your hands dirty and mould a quirky clay object as a memento of your night together. 
💰 Approx. cost per person: $39 - $57

7 - Sky Tower
Taking your date up the Sky Tower is a surefire way to elevate your romance with breathtaking panoramic views, and an unforgettable, starlit experience high above the city lights.
💰 Approx. cost per person: $33 - $45
8 - Waiheke Island Wine Tasting
Hop on a ferry and head to Waiheke Island for a day of wine tasting. Explore the island's vineyards and savour some of New Zealand's finest wines.
💰 Approx. cost per person: $120 - $300
9 - Experience Live Music
Treat your date to a night out listening to a live band. Dance, sing and enjoy the atmosphere live music creates and one of Aucklands many live music venues. 
💰 Approx. cost per person: $20 - $200
10 - Fish 'n' Chips on the Beach
You can't beat the kiwi classic date night of fish 'n' chips on the beach. Chill out with your date in the sand, enjoy the views, and snuggle up together under a cosy blanket. 
💰 Approx. cost per person: $15 - $40
11 - Get up close to Giraffe's, Panda's or Squirrel Monkey's
Treat your date with a unique Auckland Zoo experience, where you and your date can get up close and personal with a Galápagos tortoise, giraffe, barn owl, red panda, or squirrel monkeys.
💰 Approx. cost per person: $95 - $110
12
 

- Walk to the Summit of Rangitoto Island

Elevate your date by venturing to Rangitoto Island, where you'll embark on the unforgettable Rangitoto Island Summit track, starting at the Rangitoto wharf and guiding you through lava fields and the world's largest pōhutukawa forest, culminating in awe-inspiring panoramic vistas of Auckland and the Hauraki Gulf, with the option to explore lava tunnels and caves along the Lava Caves Track.

💰 Approx. cost per person: $50 - $60
13
 

- Experience Odyssey Sensory Maze

Treat your date to an unforgettable journey at Odyssey Sensory Maze, situated in the heart of Queen Street within the Sky World Entertainment Centre, where you'll work together to navigate the maze filled with challenging spaces, crazy lighting, intriguing aromas, unusual sounds, and extraordinary sensations.

💰 Approx. cost per person: $29 - $39
14
 

- Spookers

Looking for a frightfully fun date night idea in Auckland? Spookers offers an interactive thrill where you (the brave souls!) venture through themed stages, encountering live scare-actors, spine-chilling visuals, and hair-raising sound effects designed to give you a spine-tingling experience.

💰 Approx. cost per person: $55 - $65
15
 

- Dragvine Paint and Drag Show

Hosted by New Zealand's top Drag Queens, your Queen will lead you through the painting process along with games, drinks, and performances, making this uproarious evening of artistic fun a fantastic way for you and your date to connect over art, Drag Queens, and laughter!

💰 Approx. cost per person: $57 - $100
16
 

- Purrs & Beans Cat Cafe

Enjoy quality time with your date as you snuggle with adorable cats and enjoy a relaxing cup of coffee at Purrs & Beans, where a group of rescue cats has found their forever home in Birkenhead.

💰 Approx. cost per person: $16 - $25
17
 

- Cakes n Ladders

Step into a world of fun and games at Cakes n Ladders, Auckland's top board gaming café! Perfect for couples on a date, the diverse gaming library offers an array of card and board games. It's the perfect spot for a fantastic gaming date.

💰 Approx. cost per person: $9 - $20
18
 

- Glow in the Dark Painting

For a unique twist on traditional paint and sip events, try a Paintvine After Dark event, with glow-in-the-dark paint and UV lights for a one-of-a-kind experience. Who knew you could have so much fun in the dark?

💰 Approx. cost per person: $47 - $57
19
 

- Caluzzi Cabaret Dinner Theatre

Caluzzi Cabaret is a totally unique date night choice, where award-winning Drag Queen waitresses will keep you in stitches from the moment you arrive, offering outstanding service, a delectable menu, spectacular performances, uproarious comedy, and stunning costumes – making it the ultimate date night idea in Auckland.

💰 Approx. cost per person: $119 - $129
20 

- Auckland War Memorial Museum

While the museum might sound like a lame date night idea, it's a fascinating place that sparks conversation, has interactive activities and a cool atmosphere. Plus they have a cafe, or pack a picnic to enjoy on the stunning grounds.

💰 Approx. cost per person: Free - $40
How can I make my date night fun?
To make your date night enjoyable and memorable, it's essential to focus on the experience. Choose activities that both you and your partner will enjoy, and don't be afraid to step out of your comfort zones. Communication is key, so share your thoughts, interests, and expectations to ensure a fun and fulfilling evening.
What can you do on a first date? 
For a successful first date night, opt for activities that allow conversation and connection. Choose a cozy café, take a scenic walk, or attend a guided event like paint and sip or a comedy show. The goal is to get to know each other better while having a great time.
Make your night out one to remember
Auckland offers an abundance of fun, unique date night activities that are sure to create lasting memories. So, if you're looking for an unforgettable experience in this beautiful city, consider trying out some of these fantastic ideas. And remember, whether you're a local or a visitor, a date night in Auckland is bound to be an incredible adventure.
Plus, don't forget to explore Paintvine for an artistic twist on your romantic evenings. Cheers to the joy of love and unforgettable date nights in Auckland!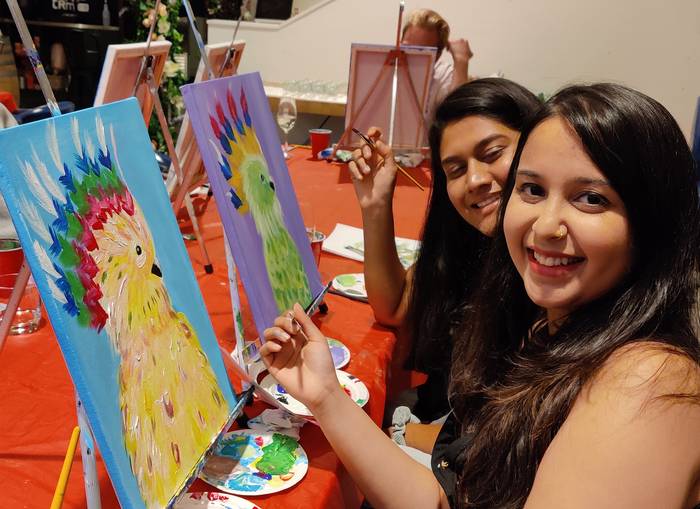 Unleash your inner artist
Paintvine is a fun night (or afternoon) full of creativity and laughter - no artistic ability required!
Find an event