The Best 10 Date Night Ideas
Last updated 17th November 2023


Are you searching for thrilling and unique date night ideas in Hamilton? Whether you're a local or just passing through this lively city, Hamilton has an array of options for romantic and enjoyable date nights.


From sipping wine while unlocking your artistic potential to enjoying fabulous drag shows, Hamilton is the perfect setting for creating unforgettable moments.
Let's explore the top 10 fantastic date night ideas that will make your time together in Hamilton special and memorable.
1 - Zealong Tea Estate
Spend a serene afternoon at Zealong Tea Estate. Take a guided tour, indulge in a traditional tea ceremony, and enjoy the tranquility of the tea plantation.
💰 Approx. cost per person: $35 - $75

2 - Hamilton Gardens
Explore the enchanting Hamilton Gardens, where you can stroll through themed gardens, discover hidden corners, and enjoy a peaceful picnic. It's a beautiful setting for a romantic and leisurely date.
💰 Approx. cost per person: Free
3 - SKYCITY Hamilton
Elevate your date night by visiting SKYCITY Hamilton. Try your luck at the casino, enjoy a delicious meal, or catch a live show for a night of entertainment and excitement.
💰 Approx. cost per person: Varies
4 - Karaoke Night
Sing your hearts out, laugh together, and create unforgettable memories with a karaoke date night at Biddy Mulligans. Belt out your favourite tunes and enjoy a night of musical fun.
💰 Approx. cost per hour: $20 - $40
➡️
Find out more
5 - Paintvine Clay Sculpting
At a Paintvine sculpt event, you and your date can get your hands dirty and mold a quirky clay object as a memento of your night together.
💰 Approx. cost per person: $39 - $57
6 - Comedy at the Meteor
Experience a night of laughter and entertainment at The Meteor. Catch a live comedy show and enjoy the intimate setting for a memorable date night.
💰 Approx. cost per person: $20 - $40
7 - Hobbiton Movie Set Tour
Embark on a magical adventure with a tour of the Hobbiton Movie Set. Explore the charming hobbit holes, lush landscapes, and relive the magic of The Lord of the Rings and The Hobbit.
💰 Approx. cost per person: $89 - $119
8 - Waikato River Cruise
Enjoy a romantic evening cruise along the Waikato River. Take in the scenic views, indulge in a delicious meal, and create special moments with your date.
💰 Approx. cost per person: $75 - $150
9 - Experience Live Music
Treat your date to a night out listening to a live band. Dance, sing, and enjoy the atmosphere at one of Hamilton's live music venues.
💰 Approx. cost per person: $20 - $200
10 - Paintvine Paint and Wine Event
Get creative with your partner at a Paintvine event. Sip on your favourite drinks while expert artists guide you step-by-step to paint a masterpiece. It's a great way to break the ice, bond, and explore your creative side in a fun, judgement-free environment.
💰 Approx. cost per person: $39 - $57
How Can I Make My Date Night Fun?
To make your date night enjoyable and memorable, it's essential to focus on the experience. Choose activities that both you and your partner will enjoy, and don't be afraid to step out of your comfort zones. Communication is key, so share your thoughts, interests, and expectations to ensure a fun and fulfilling evening.


What Can You Do on a First Date Night?
For a successful first date night, opt for activities that allow conversation and connection. Choose a cozy café, take a scenic walk, or attend a low-pressure event like a museum or art gallery visit. The goal is to get to know each other better while having a great time.


Make Your Night Out One to Remember
Hamilton offers an abundance of fun, unique date night activities that are sure to create lasting memories. So, if you're looking for an unforgettable experience in this vibrant city, consider trying out some of these fantastic ideas. And remember, whether you're a local or a visitor, a date night in Hamilton is bound to be an incredible adventure.
Plus, don't forget to explore
Paintvine
for an artistic twist on your romantic evenings. Cheers to the joy of love and unforgettable date nights in Hamilton!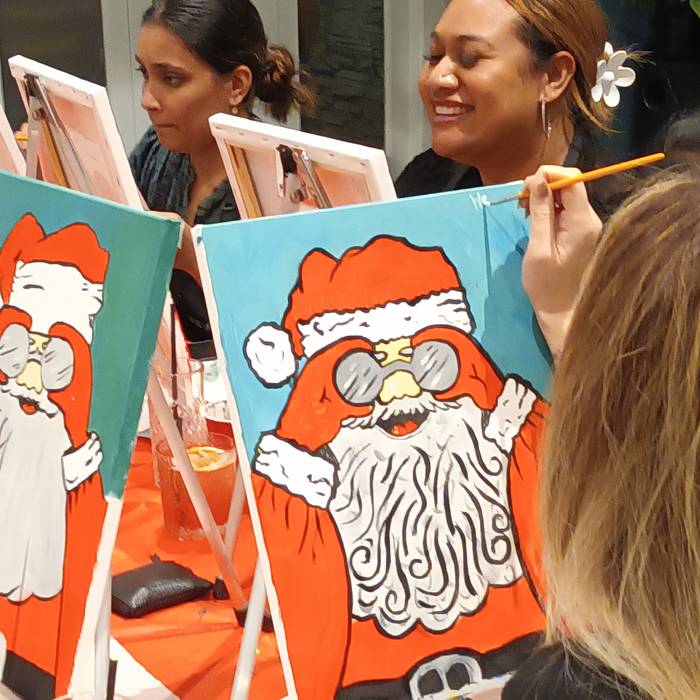 Get creative this Christmas
A Paintvine Christmas party will give your loved ones jolly memories as well as a masterpiece to take home.
Start planning