Here Are The Best Hens Night Ideas In Auckland
Last updated 8th June
Are you tasked with organising a hen's party in Auckland and looking for exciting and unforgettable ideas? Well, you're in luck! We've rounded up a list of 18 fun and fabulous hens party ideas in Auckland that are sure to make the bride-to-be's last hurrah truly memorable.
let's dive right in and explore the vibrant city of Auckland for the perfect hens party experience. From unique day spa retreats to thrilling outdoor activities, we've handpicked the best options that will have everyone celebrating in style.
1 - Relax at East Day Spa Auckland
From soothing massages to revitalising facials, indulge in a range of treatments tailored for pure relaxation. East Day Spa Auckland is the ultimate haven of tranquility for the perfect pre-wedding pampering.
💰 Approx. cost per person: $65-$190
2 - Private Yacht Charter with Ocean Groove Cruises
Explore Auckland's stunning coastline in style with Ocean Groove Cruises private yacht charters. Sail on a luxurious yacht and soak in the breathtaking views of Auckland from the comfort of your own private vessel with your girls.
💰 Approx. cost per person: 90-100
3 - Cooking Class at Sachie's Kitchen
Unlock your inner culinary genius at Auckland's most popular cooking class. Prepare to immerse yourselves in a world of flavours, techniques, and delightful creations that will leave your taste buds dancing with joy.
💰 Approx. cost per person: $85-$170
4 - Paintvine – Painting and Sip Event
Elevate the hens night with a Paint and Wine class, where creativity and fine wine come together. Choose between public classes or book an exclusive private party for a personalised experience.
Create lasting memories as you bond, laugh, and paint beautiful artworks that you can cherish for a life time. 💰 Approx. cost per person: $37-$74
5 - Waiheke Island Wine Tasting Tour
A short ferry ride from Auckland, the island boasts excellent vineyards and stunning scenery. The bridal party can taste some of New Zealand's best wines, enjoy the picturesque landscapes, and learn about the island's wine-making history.
💰 Approx. cost per person: $135-$240
6 - Caluzzi Cabaret Drag Queen Show
Enjoy a night of fabulous entertainment and delicious dining at Caluzzi Cabaret, Auckland's premier drag queen venue. With a lively vibe and a variety of shows featuring some seriously talented drag queens, you're sure to have a blast!
💰 Approx. cost per person: $119
7 - Pole Dancing Class at Altitude Pole & Fitness
Have a laugh and learn some new moves with a pole dancing class at Altitude Pole & Fitness. Unleash your inner dancer and create unforgettable memories with your girls. Get ready to spin, twirl, and laugh together during this exciting and empowering pole dancing class
💰 Approx. cost per person: $35-50
8 - Outdoor Adventure with Auckland Sea Kayaks
Embark on a guided sea kayaking tour along Auckland's stunning coastline for an unforgettable hens party adventure. Explore pristine waters, enjoy breathtaking views, and bond with your girls in nature's embrace. It's the perfect way to create lasting memories and experience the beauty of Auckland's coastline together.
💰 Approx. cost per person: $95-$195
9 - VIP Nightclub Experience at Face Club
Party at Face Club, one of Auckland's top nightclubs, for an unforgettable hens night. Dance, celebrate, and make lasting memories with your girls in a vibrant and energetic atmosphere. Let the music guide your moves as you create a night to remember at Face Club.
💰 Approx. cost per person: $60-$70
10 - Private Movie Screening at Bridgeway Cinemas
Experience a private movie screening at Bridgeway Cinemas in Northcote Point for an exclusive hens party. Enjoy a night of laughter, tears, and memorable moments with your girls in a cozy and intimate setting.
💰 Approx. cost per person: $18-$100
11 - Comedy Show at The Classic Comedy Club
Get ready for a night of laughter at The Classic Comedy Club, New Zealand's ultimate destination for live comedy and the perfect venue for a hens party. Gather your girls and prepare to be entertained by hilarious comedians who will leave you in stitches. Laugh together, create memories, and celebrate the bride-to-be in style at The Classic Comedy Club.
💰 Approx. cost per person: $35-$50
12 - Sculpture Making Class with Paintvine
Get creative at your hens party with a guided sculpture-making class from Paintvine. Sculpt your own unique masterpiece using clay and unleash your artistic side. Enjoy a fun and memorable experience that will leave you with a personalised sculpture to cherish.
💰 Approx. cost per person: $44-$106
13 - Cocktail Making Class at Mixology Brothers
Discover the secrets of crafting delicious cocktails, enjoy hands-on experience, and have a blast with your girls. Elevate your party with this fun and educational activity at Mixology Brothers. Cheers to an unforgettable hens party!
💰 Approx. cost per person: $50-$60
14 - High Tea Experience at Cordis Hotel
Experience a luxurious high tea at Cordis Hotel in Auckland for a sophisticated hens party. Delight in delectable treats, sip exquisite teas, and create cherished memories in an elegant setting. Elevate your celebration with a touch of class at Cordis Hotel's high tea experience.
💰 Approx. cost per person: $78-$130
15 - Glamping Weekend at Castaways Resort
Escape to Castaways Resort on Auckland's west coast for a glamorous hens party camping weekend. Immerse yourself in nature's beauty, relax on pristine beaches, and create unforgettable memories with your girls.
💰 Approx. cost per person: $100-$140
16 - Watercolour Painting Class with Paintvine
Relax and create beautiful artwork with a watercolour painting class from Paintvine. Create beautiful artwork under the guidance of skilled instructors and enjoy a serene and enjoyable experience with your girls. Let Paintvine make your hens party unforgettable with a touch of artistry.
💰 Approx. cost per person: $27-$64
17 - Murder Mystery Dinner at Hauraki Blue Cruises
Unleash your inner detective on a thrilling murder mystery dinner cruise with Hauraki Blue for an unforgettable hens party. Enjoy a delicious meal, solve the mystery, and cruise along the stunning Hauraki Gulf. Make your hens party a night to remember with this interactive and suspenseful experience.
💰 Approx. cost per person: $100-$190
18 - Bridal Boot Camp at Resolution Retreats
Energise your hens party with a boot camp session at Resolution Retreats in Tauranga. Get fit, have fun, and bond with your girls in a stunning natural setting just a short drive from Auckland. Kick-start your celebration with an invigorating workout and make lasting memories at Resolution Retreats.
💰 Approx. cost per person: $250-$270
Who pays for hen party?
It's common for the bridesmaids or maid of honour usually organise the event, but everyone attending, including the bride-to-be, contributes to the cost. It's important to discuss budget and expectations beforehand to make sure everyone is comfortable. The goal is to create a memorable experience for the bride-to-be while being mindful of everyone's finances.
How do you make a hen party special?
When planning a hen party, it's important to consider the bride's personality and preferences, and tailor the activities to her liking. Surprise her with unique experiences and thoughtful touches that reflects her. Pamper the bride and her girls, add delightful surprises, and focus on creating lasting memories. With proper planning and attention to detail, a hen party can be an unforgettable experience for the bride and her girl friends
What's the difference between a bridal shower and a hen party?
A bridal shower is a celebration held during the day to honour the bride-to-be, usually hosted by close family members or friends. The focus is on celebrating the bride and giving her gifts for her new home.
On the other hand, a hen party (also known as a bachelorette party) is a more exciting and lively event, often held at night, which may involve drinking, dancing, and other fun activities. It's an opportunity for the bride and her friends to have a good time and blow off some steam before the big day.
What are some Hens Do challenges?
Sing-a-Song Dare: The hen must sing her favourite song out loud in a public place.
Propose a Stranger Dare: The hen must propose to a stranger with a heartfelt speech.
Accent Dare: The hen must speak in a foreign accent for a predetermined period of time.
Dance Dare: The hen must break out in dance, no matter where she is when the music starts playing.
Photo with a Celebrity Dare: The hen must find someone who looks like a celebrity and take a selfie with them.
Impersonation Dare: The hen must impersonate the groom or another member of the party for a certain length of time.
Get a Guy's Number Dare: The hen must approach a stranger and get his phone number.
Karaoke Dare: The hen must perform a song in a karaoke bar.
Serenade a Stranger Dare: The hen must serenade a stranger with a love song.
Bartender's Choice Dare: The hen must ask the bartender to make his choice of cocktail for her to drink.
What are games you can play at a Hens Do?
Prosecco Pong: A classy twist on the classic Beer Pong, Prosecco Pong involves tossing ping pong balls into cups of Prosecco.
Bride Quiz: Before the party, ask the groom a series of questions about himself and his relationship with the bride. Then, during the hen do, quiz the bride on his answers.
Toilet Paper Wedding Dress: Split into teams and use toilet paper to design and create a "wedding dress". The bride-to-be gets to choose the best one.
Pin the Kiss on the Groom: A cheeky take on Pin the Tail on the Donkey. Use a poster of the groom and have a bit of fun.
Never Have I Ever: Each guest takes turns stating something they've never done. If anyone in the group has done it, they take a drink.
Two Truths and a Lie: Each person tells three stories about the bride-to-be; two are true and one is a lie. Everyone must guess which one is the lie.
Bridal Bingo: Create bingo cards with facts about the bride or groom. As facts are read out, guests mark them off on their cards. The first one to get bingo wins.
Scavenger Hunt: Create a list of tasks or items for guests to find during the night. This could involve things like taking a selfie with a stranger, getting a bartender's signature, etc.
Who's Who: Each guest writes down a memory they have with the bride-to-be. She then reads them out loud and everyone must guess who wrote it.
Advice for the Bride: Not so much a game, but a lovely keepsake. Each guest writes down a piece of marriage advice for the bride-to-be.
Ready to Book the Best Hens Night in Auckland?
Auckland offers an abundance of exciting options to explore, whether you're after adrenaline-pumping adventures, peaceful retreats, or cultural experiences.
Remember to incorporate the bride-to-be's personality and preferences to make the night truly unforgettable.
And hey, why not consider a Paint and Wine class with Paintvine? It's a unique and creative way to celebrate with your friends. With a little planning and a lot of heart, your Auckland hens night will be the talk of the town!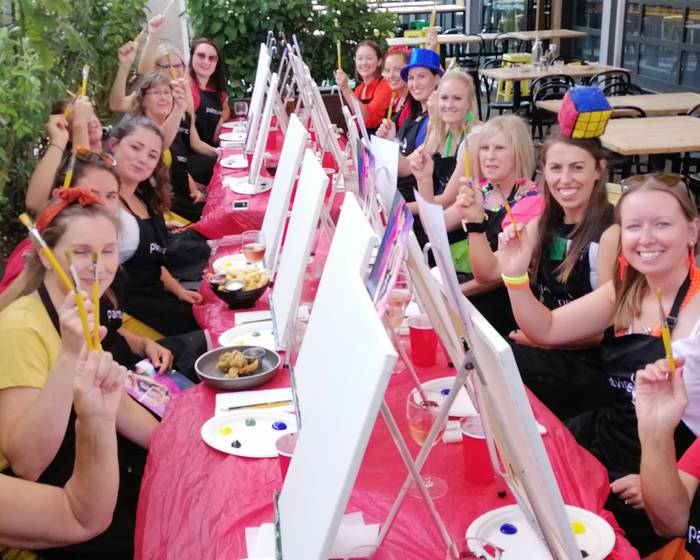 Looking for a unique hens party idea?
Elevate your hens night with a Paintvine class, where paint + wine = a good time!
Start planning