Are you ready, kids? Aye, Aye, Parents!
Last updated 23 June 2023
Holidays are a time of joy and excitement, especially for kids. With the school term wrapped up and the days free, New Zealand comes alive with a myriad of activities and attractions that offer fun for the entire family.
If you're looking for some fabulous ideas on how to spend time with your kids on holidays, this blog post is just for you, let's dive into the best activities around New Zealand — The best way to make children good is to make them happy so let's do that!
How do you spend time with kids on holidays?
Spending time with your kids during the holidays is a precious opportunity to create special memories and strengthen your bond. Just remember, the most important thing is to cherish these moments, whether it's a walk in the park or a bedtime story. Enjoy every moment with your little ones and create beautiful memories that will last a lifetime.
Let's find out what is there to do in New Zealand during school holidays
1. Let Your Creativity Flow at Paintvine
First on the list is Paintvine, New Zealand's favourite and largest paint and sip event. Paintvine offers an array of creative sessions including painting, sculpture making, and watercolour classes. These events are not only about creating art but also about having fun and making lasting memories. With over 1000+ 5 star reviews, Paintvine's events are available in every city of New Zealand, making it an accessible and ideal family outing these school holidays.
💰 Approx. cost per person: $34 - $74
2. Explore the Wonders at Auckland Zoo
Explore a diverse range of animals from around the world and create lasting memories with your family. From majestic lions to playful monkeys and colourful birds, the zoo offers a captivating experience for all ages
💰 Approx. cost per person: $24 - $34
3. Dive into Middle Earth with Hobbiton Tours
Step into the enchanting world of Middle Earth at the Hobbiton Movie Set with your family. A must-visit for fans of The Lord of the Rings and The Hobbit. Experience the magic firsthand with your family.
💰 Approx. cost per person: $89 - $199
4. Marvel at the Waitomo Glowworm Caves
Embark on a captivating journey into another world with a tour of the glowworm-studded caves. These caves offer a mesmerizing sight and an incredible learning experience for children. Explore the enchanting underground and witness the magical glow of the glowworms. It's an unforgettable adventure for the whole family.
💰 Approx. cost per person: $28 - $154
5. Learn & Play at the Museum of New Zealand Te Papa Tongarewa
This iconic museum is brimming with interactive and engaging exhibits that will captivate both kids and adults alike. Immerse yourselves in a world of hands-on learning and exploration as you delve into the diverse range of exhibits. From history and culture to science and art, Te Papa offers a multitude of experiences that will leave a lasting impression on your children.
💰 Approx. cost per person: Free entry for everyone. Charges apply to some short-term exhibitions and activities
6. Soak in the Beauty of Milford Sound
Embark on a breathtaking cruise through Milford Sound with your kids, where you'll be mesmerised by stunning waterfalls, towering peaks, and the possibility of encountering local wildlife which it will be so exciting for your little ones to see.
💰 Approx. cost per person: $129 - $600
7. Visit the Antarctic Centre in Christchurch
Immerse yourself in the incredible world of Antarctica with a unique experience that includes encountering an Antarctic storm, discovering life in modern-day Antarctica, and spending quality time with adorable Little Blue Penguins. It's an adventure you won't want to miss with your kids!
💰 Approx. cost per person: $29 - $49
8. Discover Kiwi Wildlife at Rainbow Springs Nature Park
Get ready for an exciting day at Rainbow Springs in Rotorua, where you can meet New Zealand's national bird up close. Kids will be thrilled with the interactive playscapes and the exhilarating Big Splash ride. It's a perfect family outing filled with fun and adventure.
💰 Approx. cost per person: $20 - $60
9. Journey through the Stars at the Stardome Observatory
Calling all little astronomers! Treat your family to an educational and fun experience at Auckland's Stardome Observatory. Explore the wonders of the night sky, learn about the universe, and embark on a cosmic journey that will ignite curiosity and spark a love for astronomy. Don't miss out on this stellar adventure!
💰 Approx. cost per person: $12 - $50
10. Have a Blast at Rainbow's End Theme Park
This thrilling park offers a wide range of rides, including adrenaline-pumping thrill rides for the daredevils, family rides for everyone to enjoy, and Kidz Kingdom, a special area designed for younger kids. Get ready for an action-packed day of non-stop entertainment and create unforgettable memories with your family at Rainbow's End.
💰 Approx. cost per person: $34 - $68
11. Get Lost at the Odyssey Sensory Maze
Embark on a thrilling adventure at the Odyssey Sensory Maze. Get lost in a maze filled with sensory surprises and engage your senses like never before. It's a fantastic colourful experience for the whole family.
💰 Approx. cost per person: $25 - $32
12. Experience Farm Life at the Agrodome
This exciting attraction offers a unique opportunity to learn about farming life while enjoying interactive shows and adorable farm animals. Discover the ins and outs of agriculture in a fun and engaging way. Get ready to be entertained and enlightened at the Agrodome, where laughter and learning go hand in hand. Don't miss out on this fantastic experience for the whole family!
💰 Approx. cost per person: $20 - $99
13. Adventure at the Wellington Botanic Garden
This enchanting destination offers beautiful landscapes, native forests, vibrant floral displays, and fascinating plant collections. It's the perfect place for parents to take their children, providing both an educational and enjoyable experience amidst the breathtaking surroundings.
💰 Approx. cost per person: Free admission
14. Visit Puzzling World in Wanaka
This thrilling attraction boasts the world's first 3D maze and a variety of mind-boggling puzzles that will leave both kids and parents captivated. It's the perfect destination for families seeking adventure and fun. Embark on a journey of exploration, challenge your problem-solving skills, and create unforgettable memories together at Puzzling World.
💰 Approx. cost per person: $16 - $85
15. Take a Ride on the Christchurch Gondola
This enjoyable experience offers a comfortable way to admire the stunning landscapes from a unique vantage point. Don't miss the Time Tunnel ride, a favourite among kids that adds an extra element of excitement to your journey. It's the perfect activity for the whole family to enjoy while immersing themselves in the beauty of Christchurch.
💰 Approx. cost per person: $18 - $99
Ready to book things to do with your kids in Auckland this school holiday?
These are just some of the top things to do with your kids these holidays in New Zealand. With so much to see and do, you're guaranteed to create lasting memories with your family.
Make this holiday season truly special by unleashing your creativity and bonding with your family at Paintvine. Don't miss out on this exciting adventure — visit the Paintvine website today to book your next painting class.
So let's pack up your bags and get ready to explore the best parts of New Zealand with your kids!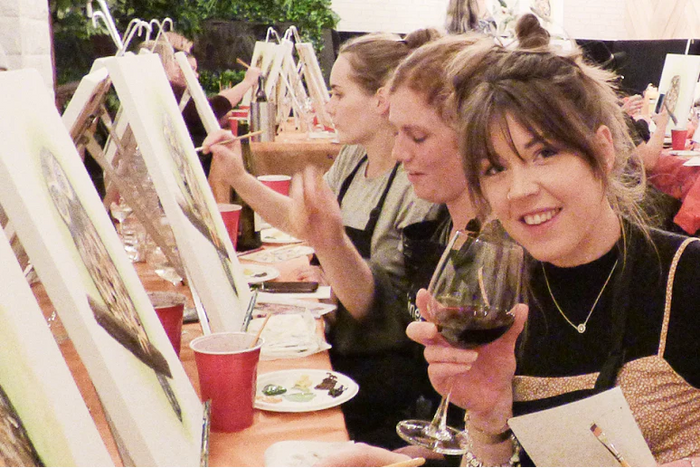 Unleash your inner artist!
Discover a different night out, pick your experience and see why Paintvine is New Zealand's favourite new event!
Find an event