10 Best Bottomless Brunches in Christchurch
Christchurch has truly mastered the art of bottomless brunches, offering an exceptional culinary adventure that leaves taste buds dancing with delight. This dynamic city boasts a diverse range of top-notch establishments, each delivering mouthwatering food, free-flowing drinks, and an electric ambiance.
Whether you're a Christchurch local in search of new brunch destinations or a visitor eager to savour an unforgettable dining experience, we've curated a list of the city's absolute best bottomless brunch spots. Prepare to have your cravings satisfied and your brunch dreams realised in Christchurch's vibrant brunch scene.
Why do people like bottomless brunch?
There are several reasons why people can't get enough of bottomless brunches. First and foremost, it's all about the food! The combination of delectable brunch dishes paired with unlimited drinks like mimosas and Prosecco, creates a mouthwatering feast that satisfies both the taste buds and the appetite. But it's not just about the food;
Bottomless brunches offer a unique and festive atmosphere where friends can come together, celebrate special occasions, and create unforgettable memories. Plus, let's not forget the incredible value for money. For a fixed price, you can enjoy a never-ending flow of delicious food and drinks, making it a fantastic way to indulge without breaking the bank.
So, whether you're a brunch lover or simply looking for a fun and tasty way to spend your weekend, bottomless brunches in Christchurch are the perfect choice to satisfy your cravings and enjoy a memorable dining experience.
Now that you know what to expect from a bottomless brunch, let's dive into the top spots in Christchurch where you can enjoy this fantastic dining experience:
1. The Rowdy Kitchen Bar & Eatery
This lively hotspot serves up a feast of scrumptious brunch dishes that will tantalize your taste buds. From classic favorites like fluffy pancakes and eggs benedict to inventive creations like loaded breakfast burritos and avocado toast with a twist, their menu has something for everyone. Sip on bottomless mimosas, fruity sangrias, or their signature brunch cocktails while soaking in the energetic atmosphere.
💰 Approx. cost per person: $50.00
⏱ Duration: 1.5 hours | Saturday and Sunday
2. Miro
Indulge in dishes that are as visually stunning as they are delicious, such as beautifully plated eggs florentine, stacked pancakes with a burst of berry goodness, and savory brunch bowls packed with wholesome goodness. Complement your meal with bottomless pours of sparkling mimosas, zesty cocktails, or refreshing mocktails.
💰 Approx. cost per person: $75.00
⏱ Duration: 2 hours | Every Weekend
3. Fiddlesticks Restaurant and Bar
For an elegant and refined bottomless brunch experience, head to Fiddlesticks Restaurant & Bar. Located in a beautifully restored historic building, Fiddlesticks offers a delightful menu featuring dishes like eggs Benedict, gourmet burgers, and delicious salads. Savour your meal with bottomless mimosas, prosecco, or classic cocktails in the charming setting of this renowned
💰 Approx. cost per person: $46.00
⏱ Duration: 2 hours | Every Saturday and Sunday
4. Dux Dine
Uncover a hidden gem at Dux Dine. Delight in fresh and sustainable dishes from hearty farm-style breakfasts featuring free-range eggs and locally sourced bacon to vibrant plant-based creations that will satisfy any foodie, their menu has options for all tastes and preferences. Sip on bottomless glasses of sparkling wine, zesty cocktails, or rejuvenating smoothies as you enjoy the relaxed and welcoming ambiance.
💰 Approx. cost per person: $69.00
⏱ Duration: 2 hours | Every Friday - Sunday
5. Original Sin
Indulge in sinful delights with their delectable menu offerings, featuring both classic brunch favorites and innovative creations. Sip on bottomless mimosas, creative cocktails, or refreshing mocktails as you savor the flavors. The vibrant ambiance and stylish decor add to the overall experience, making Original Sin the perfect place to unwind and enjoy a memorable brunch with friends or loved ones
💰 Approx. cost per person: $75.00
⏱ Duration: 2 hours | Every Friday - Sunday
Remember to make a reservation in advance, arrive on time, and enjoy the unlimited drinks responsibly. Cheers to a fabulous bottomless brunch experience in Christchurch!
After filling your belly and sipping on unlimited drinks, it's time to continue the adventure
Here's a list of exciting post-brunch activities to explore in the city:
Explore the Botanic Gardens: Take a leisurely stroll through the beautiful gardens, admire the stunning flora, and enjoy a peaceful escape from the city.
Visit the Adventure Park: Experience an adrenaline rush with activities like ziplining, mountain biking, or taking a scenic chairlift ride in this thrilling park.
Discover the Canterbury Museum: Immerse yourself in the rich history and culture of the region through fascinating exhibits and displays at this renowned museum.
Explore the vibrant street art: Wander through neighbourhoods like the CBD, Addington, or Sydenham, and admire the colourful murals and street art that bring the city to life.
Treat yourself to a spa session: Unwind and rejuvenate with a relaxing massage or spa treatment, pampering yourself after a satisfying brunch.
Take a punting tour on the Avon River: Enjoy a tranquil and scenic boat ride along the Avon River, taking in the picturesque views of the city and its charming surroundings.
Visit the Christchurch Art Gallery: Immerse yourself in the world of art and culture at this renowned gallery, featuring a diverse range of contemporary and traditional artworks.
Explore the Christchurch Botanic Gardens Tour: Join a guided tour of the gardens and gain insights into the various plant species, stunning landscapes, and the history of the gardens.
Take a scenic drive to Akaroa: Venture out of the city and embark on a picturesque drive to the charming French-inspired town of Akaroa, known for its stunning harbour and delightful cafes.
Join a Paintvine event: Unleash your creativity and have a fun painting session with Paintvine, where you can create your own masterpiece while enjoying the company of fellow art enthusiasts.
Ready to Book Your Perfect Post-Bottomless Brunch Adventure?
keep the fun going with an exciting post-brunch activity like attending a Paintvine event. Unleash your creativity and create a masterpiece to commemorate your unforgettable brunch adventure.
Just remember to enjoy responsibly, make wonderful memories, and let the good times roll at these fabulous bottomless brunch and post-brunch destinations.
Cheers to an incredible time!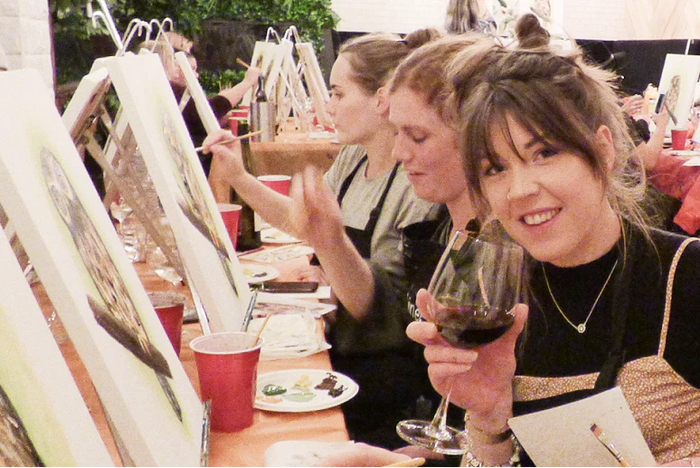 Unleash your inner artist!
Discover a different night out, pick your experience and see why Paintvine is New Zealand's favourite new event!
Find an event