Indulge in the Best Bottomless Brunches in Hamilton
Last updated 11 July 2023
When it comes to bottomless brunches, Hamilton knows how to do it right. The city is home to an array of top-notch establishments that seamlessly blend delicious food, unlimited drinks, and inviting atmospheres.
Whether you're a local looking for new spots to explore or a visitor seeking the perfect brunch destination, we've curated a list of the best bottomless brunches in Hamilton that will satisfy your cravings for delectable food and endless drinks.
What is included in a bottomless brunch?
Typically, bottomless brunches offer unlimited servings of both food and drinks. You can indulge in a variety of mouthwatering dishes from the brunch menu, ranging from classic favorites to creative culinary delights. And the best part? Your glass will never be empty, as you can enjoy bottomless refills of your chosen beverages, whether it's mimosas, bloody marys, or other delightful brunch cocktails. So, get ready to treat your taste buds to an endless parade of flavors and keep those glasses filled to the brim for a truly satisfying brunch experience!
How do I get the most out of my bottomless brunch?
We've got you covered with some awesome tips! First things first, take your time and savor every delicious bite and sip. Don't forget to explore the menu and try out different dishes for a real taste adventure. Stay hydrated by alternating your drinks with some refreshing water. Oh, and don't forget to soak up the lively vibes and have a blast with your brunch buddies! To avoid any disappointments, be sure to book ahead and plan your visit in advance.
Get ready for an unforgettable time at the best bottomless brunches in Hamilton!
1.

Keystone
From mouthwatering seven dishes to enjoy as many refreshing cocktails, Keystone has it all. Savour your favorites while enjoying the vibrant atmosphere and friendly service. It's the perfect spot to gather with friends or family and create unforgettable brunch memories in Hamilton. 
💰 Approx. cost per person: $49.00
⏱ Duration: 2 hours | Every Saturday
2. The Flying Burrito Bros
Experience the vibrant flavours of Mexico at The Flying Burrito Bros in Hamilton. Enjoy a bottomless brunch with mouthwatering dishes like sizzling fajitas and loaded burritos. Sip on unlimited margaritas, sangria, or house beer as you soak in the lively atmosphere. Gather your friends and indulge in a Mexican feast like no other. Join us at The Flying Burrito Bros for an unforgettable brunch experience in Hamilton.
💰 Approx. cost per person: $65.00
⏱ Duration: 2 hours | Every Friday, Saturday, and Sundays
Not really bottomless brunches but also an unforgettable brunch experience 
1. The Helm Bar & Kitchen
 The Helm offers a fantastic menu selection featuring dishes like eggs Benedict, steak and eggs, or smoked salmon bagels. Sip on mimosas, prosecco, or Bloody Marys while enjoying the lively atmosphere and panoramic views of the Waikato River.
💰 Approx. cost per person: $50
2. SkyCity Hamilton - The Local Taphouse
Indulge in dishes like loaded nachos, gourmet burgers, and mouthwatering share plates. The Local Taphouse warm and trendy atmosphere, coupled with its extensive beer selection, guarantees a brunch experience that will satisfy both your food and drink cravings.
💰 Approx. cost per person: $50
3. Gothenburg
Step into a realm of elegance and culinary excellence at Gothenburg's. This dining experience is a true feast for the senses. Prepare to indulge in a delightful fusion of flavours, from scrumptious breakfast favorites to creative brunch specialties, all accompanied by bubbles and impeccable service.
💰 Approx. cost per person: $50
4. Hayes Common
Hayes Common sets the stage for an unforgettable brunch experience that will transport you to a world of culinary bliss. Saturdays are the best day to visit, where you'll savour every bite of the thoughtfully crafted dishes, revel in the trendy atmosphere, and raise a glass to the art of bottomless brunching.
💰 Approx. cost per person: $75
What is there to do after a bottomless brunch?
There are plenty of exciting activities to enjoy — Depending on your preferences, there are plenty of activities to keep the good times rolling.
Paintvine - Unleash your inner artist at Paintvine! Join a painting session where you can create a masterpiece while sipping on your brunch-induced inspiration.💰 Prices start at NZD $49 per person.
Local Attractions - Explore Hamilton's local attractions such as the Hamilton Gardens, Waikato Museum, or the Hamilton Zoo. 💰Prices vary depending on the attraction.
Retail Therapy - Indulge in some shopping at trendy stores like The Base or Centre Place Mall, where you can find a wide range of fashion, accessories, and homeware. 💰Prices vary depending on your purchases.
Parks and Gardens - Take a leisurely stroll through picturesque parks like Hamilton Lake Domain or the Hamilton Gardens, where you can enjoy beautiful scenery and relax.💰 Free of charge.
Matinee at the Theatre - Catch a matinee performance at the Clarence Street Theatre or the Meteor Theatre and enjoy a variety of shows, from plays to musicals.💰 Ticket prices vary depending on the show.
Live Music - Dance the afternoon away at local clubs and lounges like The Factory or Shenanigans Irish Pub, where you can enjoy live music performances.💰 Entry fees may apply.
Remember to check the availability, timings, and prices of these activities beforehand to plan your post-brunch adventure accordingly. Get ready to make the most of your day and create unforgettable memories in Hamilton!
Ready to book your pos-bottomless brunch activity?
If you're up for a unique and creative experience, we highly recommend checking out Paintvine! It's the perfect way to unleash your inner artist and have a ton of fun with friends. Join a session, grab a paintbrush, and let your imagination run wild.
No worries if you're a beginner, the friendly instructors will guide you through the process. It's a guaranteed good time! So why not add some color to your day and book a Paintvine session?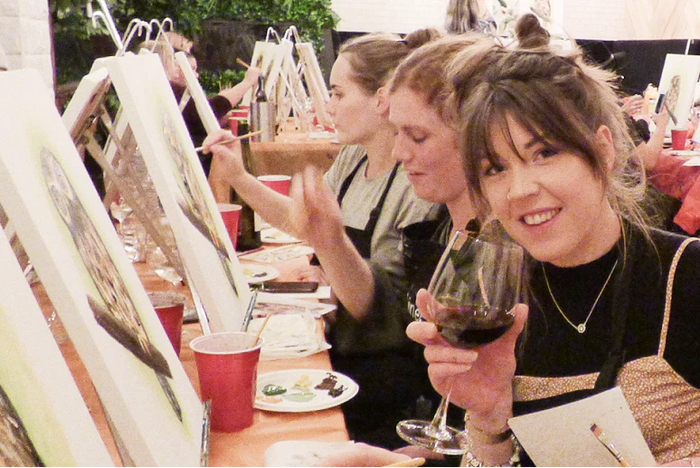 Unleash your inner artist!
Discover a different night out, pick your experience and see why Paintvine is New Zealand's favourite new event!
Find an event