Discover the Best Bottomless Brunches in Tauranga
When it comes to indulgent brunch experiences, Tauranga has got you covered with its fantastic selection of bottomless brunch venues. Get ready to treat yourself to a delightful combination of delicious food, free-flowing drinks, and a vibrant atmosphere. Whether you're a local looking for new brunch spots or a visitor seeking a memorable culinary adventure, we've curated a list of the best bottomless brunches in Tauranga that are sure to satisfy your cravings.
What's the Buzz about Bottomless Brunch?
Bottomless brunches have taken the dining scene by storm, and it's not hard to see why! These brunches are the epitome of enjoyment, bringing together the pleasures of a leisurely meal with friends, mouthwatering dishes, and unlimited mimosas or cocktails. It's like having a mini party in the daytime!
Aside from the sheer fun they offer, bottomless brunches provide excellent value for your money. You can savour a variety of delectable flavours without worrying about extra costs. And let's not forget the power of social media! Sharing your bottomless brunch adventures on platforms like Instagram and Facebook is a great way to make your friends drool and entice them to join in on the excitement.
So gather your crew, put on your brunchin' pants, and get ready for an unforgettable brunch experience filled with good vibes, great drinks, and moments you'll cherish forever. Cheers to that!
Embark on a Flavourful Journey with the Best Bottomless Brunches in Tauranga!
1. CBK (Craft Bar & Kitchen)
CBK Tauranga's sun-filled courtyard provides the ideal setting to unwind and enjoy quality time with loved ones.
CBK's Bottomless Brunch includes a platter of starters of Calamari, Garlic Bread and Poppers. Followed by your choice of a main between CBK salad, Smoked Chicken Pesto and Bacon Linguine, CBK Craft Burger.
Quench your thirst with bottomless brunch drink options, such as Easy Lager, Mimosa, Prosecco, Daiquiri, as well as Juice and Soft Drinks.
💰 Approx. cost per person: $60.00
⏱ Duration: 2 hours | Friday - Sunday
2. The Tauriko Pub Co
Start your Saturday in style at the Tauriko Pub Co! Their bottomless brunch includes your choice of fish & chips, margherita pizza, crispy chicken salad or a scrumptious beef Burger with bottomless mimosa, prosecco and a pineapple ginger beer mocktail.
Grab your mates, as it is only available for groups of four or more!
💰 Approx. cost per person: $55.00
⏱ Duration: 3 hours | Every Saturday
3. Station 83
Experience the breathtaking water views at Station 83's spacious outdoor area, creating the ideal setting for a memorable and leisurely day.
Gather your loved ones for an unforgettable Bottomless Brunch at Station 83 Tauranga, where you can relish in mouthwatering garlic pizza bread, delightful mains like prawn pizza, juicy beef burger, or refreshing Thai beef salad, and enjoy a variety of bottomless drink choices, including Corona beer, Prosecco, Mimosa, and Daiquiri.
💰 Approx. cost per person: $60.00
⏱ Duration: 2 hours | Friday - Sunday
What's Next After an Amazing Bottomless Brunch?
The adventure doesn't have to end with brunch! Keep the good times rolling with these awesome ideas for your post-brunch escapades:
Explore the local beaches: Take a leisurely stroll along the stunning beaches of Mount Maunganui or Papamoa and feel the sand between your toes.
Visit local markets: Check out the vibrant farmers' markets in Tauranga and discover a variety of fresh produce, local crafts, and delicious treats.
Enjoy a scenic hikein the beautiful surrounding nature: Embark on a hike in the nearby Kaimai Mamaku Forest Park or explore the scenic trails of McLaren Falls Park.
Unleash your creativity with Paintvine: Join a Paintvine session and unleash your inner artist. Experience the joy of painting while sipping on a refreshing beverage in a relaxed and supportive atmosphere. Paintvine welcomes all skill levels, so whether you're a seasoned artist or a beginner, you'll have a fantastic time expressing your creativity
Relax at a spa: Treat yourself to a pampering session at one of Tauranga's luxurious spas, where you can unwind with a massage, facial, or rejuvenating treatment.
Go on a wine tour: Discover the region's renowned vineyards and wineries with a wine tour, where you can sample exquisite wines and learn about the winemaking process.
Take a scenic drive: Explore the stunning Bay of Plenty region with a scenic drive along the coast, stopping at picturesque viewpoints and charming coastal towns along the way.
These activities will complement your bottomless brunch experience and allow you to make the most of your time in Tauranga.
Ready to Book Your Perfect Bottomless Brunch Adventure?
If you're looking for a unique and creative way to continue the festivities after your bottomless brunch, consider joining a Paintvine session!
Let your inner artist shine as you create a masterpiece to cherish, all while enjoying a drink or two in a relaxed and supportive environment.
Cheers to an unforgettable bottomless brunch adventure in Tauranga!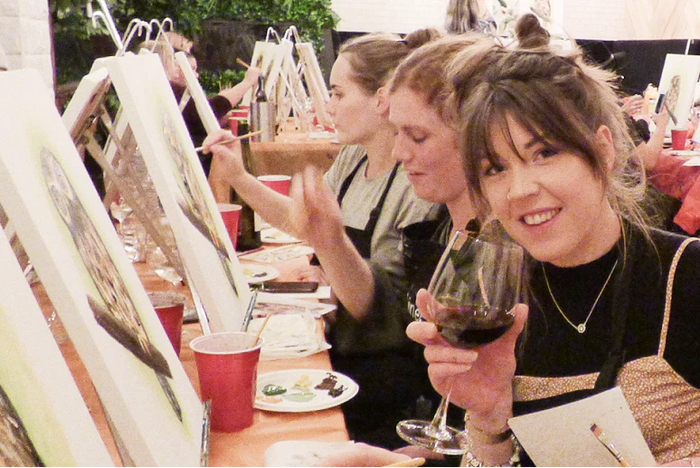 Unleash your inner artist!
Discover a different night out, pick your experience and see why Paintvine is New Zealand's favourite new event!
Find an event