The Best Hens Night Ideas in New Zealand
Last updated 18 May 2023
Get ready to embark on a whirlwind of excitement as you plan a hens night that will go down in history! Crafting the perfect hens night involves striking the right balance between activities, locations, and atmosphere, all while keeping the bride-to-be's preferences in mind.
From quirky fun to chill vibes, we've rounded up the top 20 ideas for a remarkable hens night. Plus, we'll share some top tips for organising the perfect event, considerations to keep in mind.

1. Pampering Spa Day
A day of pure indulgence at a luxury spa is an excellent way to unwind before the big day. Relish a variety of treatments from massages to facials with your closest girlfriends.
It's a relaxing rendezvous that ensures everyone leaves glowing and rejuvenated.
💰 Approx. cost per person: $100-$250
2. Cocktail Making Class
Shake things up with a cocktail making class. Under the guidance of a professional bartender, you and your girls can have a blast learning to create delightful concoctions.
It's not only an exciting way to start the party but also a handy skill to impress your future guests.
💰 Approx. cost per person: $60-$100
3. Dance Class
Get your hearts racing with a private dance class. From pole dancing to salsa, pick your style and let the music guide you.
It's an electrifying activity that promises to get everyone laughing, bonding, and ready for the dance floor.
💰 Approx. cost per person: $20-$50
4. Boat Tour!
Soak in the stunning views of New Zealand's coastline with a private yacht charter.
This luxurious experience, complete with food, drinks, and perhaps a breathtaking sunset, is the ultimate celebration of the bride-to-be's special occasion.
💰 Approx. cost per person: $200-$500
5. Wine Tour
Embark on a delightful journey through some of New Zealand's top vineyards.
From sampling exquisite wines to appreciating the serene landscapes, it's a fantastic outing that'll create warm memories and perhaps spark a newfound appreciation for New Zealand's renowned wineries.
💰 Approx. cost per person: $80-$150
6. House Party with a Topless Waiter
Add a dash of risqué fun to your hens night with a house party featuring a topless waiter.
Your waiter can serve cocktails and hors d'oeuvres, adding a playful twist that the bride-to-be and the girls will talk about for years to come!
💰 Approx. cost per person: $30-$60
Additional $200 for the topless waiter
7. Outdoor Movie Night
Enjoy a nostalgic evening under the stars with an outdoor movie night. Set up a projector in the backyard and screen the bride-to-be's favourite movie.
Bring out the popcorn, blankets, and fairy lights for a cozy, intimate evening with the girls.
💰 Approx. cost per person: $10-$20
8. Late night Karaoke
Let the bride-to-be be the star of the show with a karaoke night. Singing your hearts out to your favourite tunes is a fantastic way to bond, laugh and create memories.
💰 Approx. cost per person: $20-$40
9. Paint and Wine Class
Add a splash of colour and creativity to the hens night with a Paint and Wine class. This activity allows the bride-to-be and her girls to unleash their artistic side while enjoying some fine wine.
You can join a public class, or for a more personalised experience, book an exclusive hens private party. It's a memorable and fun way to bond, creating both art and memories that will last a lifetime.
💰 Approx. cost per person: $37-59
10. High Tea Experience
Treat the bride-to-be to a traditional high tea experience. Relish delicious pastries, dainty sandwiches, and a variety of teas in an elegant setting, perfect for an afternoon of sophisticated fun.
💰 Approx. cost per person: $50-$80
11. Escape Room Adventure
Challenge the bride-to-be and her girls to an escape room adventure. This activity offers an opportunity for the group to bond, work together, and engage in some friendly competition, all while having a blast.
💰 Approx. cost per person: $20-$40
12. Comedy Club Outing
Share laughs at a comedy club. It's a great way to lighten the mood and ensure the bride-to-be and her party are all smiles. New Zealand boasts some fantastic local talent that will have you laughing till your sides ache.
💰 Approx. cost per person: $20-$50
13. Casino Night
Try your luck with a glamorous night at Skycity Casino. From roulette to poker, it's an exhilarating way to celebrate the bride-to-be's last single night.
💰 Approx. cost per person: Free entry, gambling money at your discretion!
14. Luxury Weekend Getaway to Queenstown
Treat the bride-to-be with a luxurious weekend retreat to Queenstown. Known for its breathtaking landscapes and adventurous activities, Queenstown offers the perfect backdrop for a memorable hens weekend.
💰 Approx. cost per person: $300-$800
15. Yoga Class in the Skytower
Combine fitness and fun with a session of yoga at Auckland's Skytower. Besides being a unique experience, the class provides stunning panoramic views of the city, making it a special treat for the bride-to-be.
💰 Approx. cost per person: $30-$60
16. Go to a Gig!
If the bride-to-be is a music lover, going to a live gig could be a perfect hens night activity. It's a thrilling way to dance and sing along to some good tunes while making unforgettable memories with her closest girls.
💰 Approx. cost per person: $50-$150

17. Maori Arts and Crafts Workshop
Immerse yourselves in the rich Maori culture with an arts and crafts workshop. You'll learn traditional techniques and create a one-of-a-kind souvenir.
It's a meaningful way to celebrate the bride-to-be's special day, leaving each of you with a unique keepsake to cherish.
💰 Approx. cost per person: $40-$80
18. Visit a Manuka Honey Farm
Take a sweet trip to a Manuka honey farm. Discover the magical properties of Manuka honey, its importance to New Zealand's culture, and participate in a honey tasting or even a beekeeping experience.
It's a buzz-worthy way for the bride-to-be and her girls to have some fun and learn something new.
💰 Approx. cost per person: $30-$50
19. Geothermal Spa Getaway in Rotorua
Experience a day of rest and relaxation at a geothermal spa in Rotorua. Soak in the revitalizing hot pools, surrounded by New Zealand's stunning natural beauty.
It's a perfect getaway for the bride-to-be and her closest friends, offering a peaceful and refreshing retreat.
💰 Approx. cost per person: $50-$150
20. Paua Shell Jewellery Workshop
Get crafty with a paua shell jewellery workshop. New Zealand's iconic paua shell is known for its vibrant colours, and you'll learn how to turn it into beautiful jewellery. Understand its cultural significance in Maori art while creating memorable pieces for the bride-to-be and her party to wear and remember the day.
💰 Approx. cost per person: $40-$80


Top Tips for a Perfect Hens Night
Know the Bride-to-be's Preferences
A hens night should be tailored to the bride-to-be. Make an effort to understand her likes and dislikes.Whether she's an adventure enthusiast or a wine lover, plan an event that reflects her interests and makes her feel special.
Establish a Clear Budget
Finances are a crucial part of any event planning. Keep everyone's budget in mind when choosing activities. It's important to offer flexibility in activity selection to ensure that everyone can participate and have fun without feeling the pinch.
Involve the Entire Group in Planning
Everyone should feel included in the hens night planning. Solicit suggestions from the group and delegate tasks. This way, everyone will feel invested in the event and it will lead to a more enjoyable experience for all.
Consider Logistics and Travel Arrangements
Practical considerations such as venue locations and travel arrangements are just as important as choosing the fun activities. Ensure that the venues are accessible and that transportation is simple and convenient.
Create Memorable Keepsakes
One of the best ways to remember the hens night is through keepsakes. These can be anything from customised t-shirts and photo albums to unique mementos that reflect the essence of the celebration.
What to Consider When Planning
Group Size
The size of your group can greatly influence the choice of venues and activities. Be sure to choose options that can comfortably accommodate everyone to ensure a pleasant experience.
Timeline
Timing is everything. Plan and book activities well in advance to avoid last-minute disappointments and to ensure everything goes smoothly.
Accessibility
Take into account any special requirements for attendees. This could be dietary restrictions, physical accessibilities, or anything else that would affect their comfort and enjoyment.
Purpose
It's important to set the tone for the event right from the beginning. Are you planning a wild, party-filled night or a more relaxed, intimate gathering? Defining expectations upfront helps in planning the right activities.
Balance
A great hens night has a good mix of activities to keep everyone entertained and engaged. Balance fun activities with some downtime for relaxation and conversations.
What are some Hens Do challenges?
Sing-a-Song Dare: The hen must sing her favourite song out loud in a public place.
Propose a Stranger Dare: The hen must propose to a stranger with a heartfelt speech.
Accent Dare: The hen must speak in a foreign accent for a predetermined period of time.
Dance Dare: The hen must break out in dance, no matter where she is when the music starts playing.
Photo with a Celebrity Dare: The hen must find someone who looks like a celebrity and take a selfie with them.
Impersonation Dare: The hen must impersonate the groom or another member of the party for a certain length of time.
Get a Guy's Number Dare: The hen must approach a stranger and get his phone number.
Karaoke Dare: The hen must perform a song in a karaoke bar.
Serenade a Stranger Dare: The hen must serenade a stranger with a love song.
Bartender's Choice Dare: The hen must ask the bartender to make his choice of cocktail for her to drink.
What are games you can play at a Hens Do?
Prosecco Pong: A classy twist on the classic Beer Pong, Prosecco Pong involves tossing ping pong balls into cups of Prosecco.
Bride Quiz: Before the party, ask the groom a series of questions about himself and his relationship with the bride. Then, during the hen do, quiz the bride on his answers.
Toilet Paper Wedding Dress: Split into teams and use toilet paper to design and create a "wedding dress". The bride-to-be gets to choose the best one.
Pin the Kiss on the Groom: A cheeky take on Pin the Tail on the Donkey. Use a poster of the groom and have a bit of fun.
Never Have I Ever: Each guest takes turns stating something they've never done. If anyone in the group has done it, they take a drink.
Two Truths and a Lie: Each person tells three stories about the bride-to-be; two are true and one is a lie. Everyone must guess which one is the lie.
Bridal Bingo: Create bingo cards with facts about the bride or groom. As facts are read out, guests mark them off on their cards. The first one to get bingo wins.
Scavenger Hunt: Create a list of tasks or items for guests to find during the night. This could involve things like taking a selfie with a stranger, getting a bartender's signature, etc.
Who's Who: Each guest writes down a memory they have with the bride-to-be. She then reads them out loud and everyone must guess who wrote it.
Advice for the Bride: Not so much a game, but a lovely keepsake. Each guest writes down a piece of marriage advice for the bride-to-be.
Ready to book and unforgettable hens night?
The best hens nights are a mix of fun, relaxation, and bonding with friends. New Zealand offers a multitude of exciting options to explore, whether you're looking for an adrenaline rush, a tranquil retreat, or a cultural immersion.
Remember, it's all about incorporating the bride-to-be's personality and preferences to create an unforgettable experience.
While planning, consider a Paint and Wine class with Paintvine for a unique, creative celebration that everyone will love. With a bit of planning and a lot of heart, your hens night will be the talk of the town!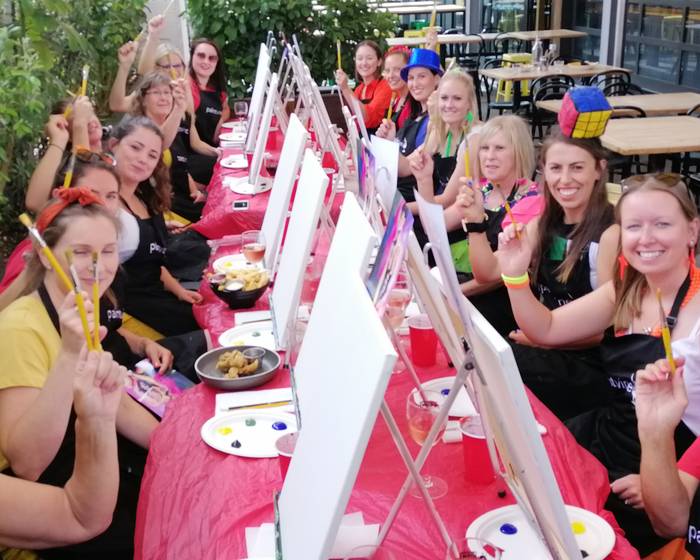 Looking for a unique hens party idea?
Elevate your hens night with a Paintvine class, where paint + wine = a good time!
Start planning