The Best Valentine's Day Ideas and Gift Ideas
Last updated 16th November 2023
Ah, the season of love is upon us, and the 14th February - the most romantic day of the year - is approaching. It can be hard to know how to celebrate this special day, so we've put together a list of the most unforgettable experiences and thoughtful gifts we could find.
So whether you're a Kiwi looking for local gems or a visitor wanting to soak in the charm of Aotearoa, we've got your Valentine's Day covered with creative ideas and unique presents.
Top 10 Valentine's Day Activities in Aotearoa
1 - Paintvine Creative Date Nights
Explore the art of love with a Paintvine creative night out. Treat your Valentine to a paint and wine evening, sculpt your love with a clay workshop, embrace the mystery and excitement of Valentine's After Dark events, where UV lights and glow-in-the-dark paint awaits. 
Or if you want to add a dash of flamboyance to your celebration, consider a Dragvine event - a unique twist on traditional paint and wine nights.
💰 Approx. cost per person: $39 - $57

2 - Starry Night Picnic
Head to a secluded spot away from city lights, lay out a cozy blanket, and enjoy a picnic under the starlit sky. Bring along some stargazing apps to identify constellations.
💰 Approx. cost per person: Free, only the cost of the picnic!
3 - Check Out Live Music
Live music is the perfect atmosphere to celebrate Valentine's Day. New Zealand has a fabulous jazz scene, and a great array of covers bands that you can slow dance the night away to. 
💰 Approx. cost per person: $10 - $80
4 - Cook Together
Cooking together for Valentine's Day is an intimate experience that not only allows you to share the joy of creating a delicious meal but also fosters teamwork and creates lasting memories in the heart of your home.
💰 Approx. cost per person: $20 - $50
5 - Fish 'n' Chips on the Beach
Cuddle up on the beach with the kiwi classic, fish 'n' chips! The sound of waves, the cool breeze, and the shimmering reflection of setting sun on the water creates a serene and intimate setting.
💰 Approx. cost per person: $10 - $20
6 - Be Tourists for the Day
Being a tourist in your own town for a date night adds an element of excitement and discovery, allowing you to see familiar places with fresh eyes, uncover hidden gems, and create a shared adventure that strengthens your connection.
💰 Approx. cost per person: Varies
7 - Go Wine Tasting
One of the great things about NZ is that we have heaps of wineries, wine bars and craft beer specialists. Wine tasting is a fun way to spark conversation, and bond over a new experience.
💰 Approx. cost per person: $30 - $100
8 - Movie Night
Take your Valentine to the movies at one of New Zealand's fabulous cinemas. Alternatively you could arrange a movie night at home, complete with popcorn and treats.
💰 Approx. cost per person: $10 - $40
9 -
Camping Under the Stars
Set up a tent in your backyard or go camping for a night under the stars, complete with a bonfire and s'mores.
💰 Approx. cost per person: Free - $80
10 - DIY Chocolate Tasting
Curate a selection of high-quality chocolates from local artisans or specialty shops. Blindfold each other and embark on a delightful chocolate-tasting experience at home.
💰 Approx. cost per person: $20 - $80
Quirky Tokens of Love: 10 Gift Ideas to Win Hearts
Searching for the perfect gift idea to make Valentine's Day extra special? We've got you covered with these 10 creative gift ideas:
Paintvine Gift Card: Give the gift of a great night out, so you and your Valentine can get creative together, with paint, wine and good times!

Adventure Scrapbook: Chronicle your shared adventures with a personalised scrapbook, filled with photos and mementos.

Hot Springs Getaway: Surprise your loved one with a weekend escape to New Zealand's rejuvenating hot springs—a gift of relaxation and intimacy.

DIY Terrarium Kit: Foster your love with a DIY terrarium, symbolising growth and nurturing your relationship.

Write Love Letters: Consider expressing yourself through words, by writing love letters with stories of when you first met, and milestones in your relationship.

Plantable Love Notes: Gift love notes embedded with flower seeds that can be planted for a blooming surprise.

Adventure Fund Jar: Start a fund jar for future adventures, encouraging plans for exciting experiences together.

Book of Love Coupons: Create a booklet of love coupons, each redeemable for a special favour or activity.

Stargazing Experience: Book a private stargazing session for two, immersing yourselves in the mesmerising night sky of Aotearoa.

Memory Jar: Fill a jar with handwritten notes recalling special moments and shared memories.
How Can I Make Valentine's Day Really Special?
Curate an unforgettable experience by blending personal touches with the charm of Aotearoa. Plan a surprise outing to a scenic spot, incorporate elements that reflect your shared interests, and, most importantly, be present in the moment. Whether it's a heartfelt gesture or a grand adventure, the key is to make the day uniquely yours.
Create magic by infusing your celebration with authenticity. Explore hidden gems, indulge in local delicacies, and embark on adventures that resonate with both of you. Take a moment to connect, appreciate the beauty around you, and revel in the joy of love shared in the captivating landscapes of New Zealand.
Make Valentine's Day Special by Planning Early!
From scenic strolls to artisanal delights, there's no shortage of ways to make your Valentine's Day extraordinary. And if you're looking for an artistic twist, why not join us at Paintvine for a night of creativity and connection?
Here's to a love-filled celebration in the heart of New Zealand!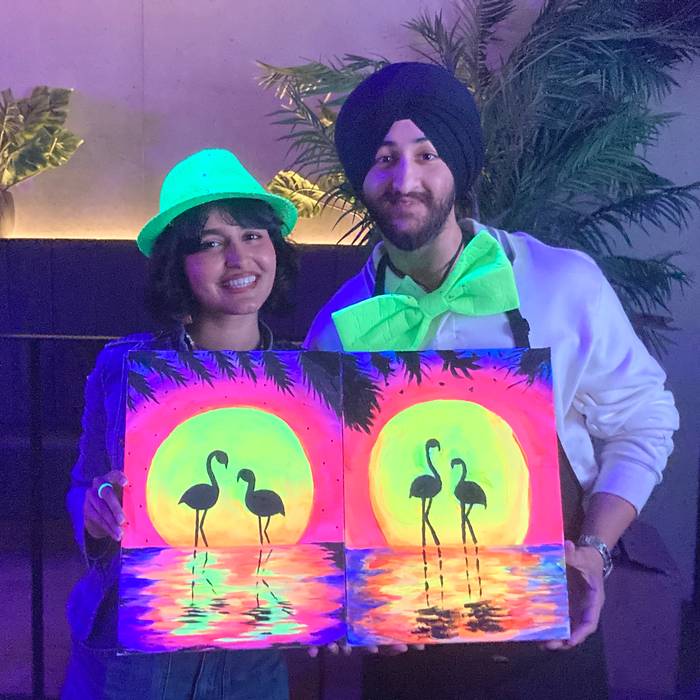 Unleash your inner artist!
Discover a different night out, pick your experience and see why Paintvine is New Zealand's favourite creative night out.
Find an event