10 Fun-Filled Ideas for Your Wellington Christmas Party
Last updated 14th November 2023
'Tis the season to be jolly, and what better way to spread the festive cheer than with a unique Christmas party in Wellington, New Zealand!
Embrace the warmth of the summer sun as we present you with the best ideas for a Christmas celebration that's not only memorable but downright unforgettable.
1 - Paintvine Paint and Wine Event
Kick off your festive fiesta with a splash of creativity! Head to a Paintvine paint and sip event, or book your own private event where you can let your artistic side run wild. Sip on your favourite drink, paint a masterpiece, and revel in the merry atmosphere.
💰 Approx. cost per person: $39 - $57
2 - Holey Moley Golf Club
Host your Christmas bash at Holey Moley, where you can putt your way through 18 uniquely themed mini-golf holes. With a fully-equipped cocktail bar and a selection of delectable pizzas, this unique venue will make for an unforgettable night out.
💰 Approx. cost per person: $55 - $100
3 - Christmas Party at Social Cooking
Social Cooking promises a uniquely delicious Christmas party experience, featuring the Christmas Masterchef challenge and various themed formats, all expertly organised for your team's enjoyment. 
💰 Approx. cost per person: $125 - $150
4 - Archie Brothers Cirque Electriq
Celebrate with Mistletoe, Mojitos, and Mario Bros at Archies! Embrace the holiday spirit with arcade games, bowling or karaoke. Archies have packages tailored to suit all your needs. 
💰 Approx. cost per person: $55 - $117
5 - Boomrock Celebrations
Set in an idyllic location with friendly hospitality and gourmet cuisine, Boomrock provides an unforgettable setting to create memories that will last a lifetime. With activities like axe throwing and digger challenges, Boomrock has something for everyone and will definitely make for a memorable event!
💰 Approx. cost per person: POA
6 - Paintvine Clay Sculpting
Take your artistic talents to the next level by sculpting your way into Christmas joy. At a Paintvine Sculpt event, mold and shape your holiday spirit into unique sculptures, creating a one-of-a-kind party experience.
💰 Approx. cost per person: $39 - $57

7 - Wellington Party Boat
Sail away on the Wellington Party Boat for an exclusive cruise on Wellington Harbour, accommodating up to 20 people. BYO drinks and food for an affordable and flexible experience, with customisable 2, 3, or 4-hour charters, including options for gentle cruising, swimming, and kayaking, and the convenience of party packages, complete with catering and a bar if BYO isn't your preference.
💰 Approx. cost per person: POA
8 - Glow in the Dark Paint Party
Paintvine's After Dark sessions are an experience you need to see to believe! They can come to you, or find the perfect venue for you. Their expert artists will lead you through how to paint a neon painting, while you enjoy UV lights, glow in the dark paint and laughs all night long.
💰 Approx. cost per person: $47 - $57
9 - Hire a Band
Live music always makes parties more fun! Wellington has a huge range of talented musicians, and is the perfect place to hire a band for your Christmas party. 
💰 Approx. cost per person: POA
10 - Room Escape, Dinner & Dancing
Infuse intrigue into your Christmas celebration with an escape room challenge, followed by dinner and VIP treatment at a nearby bar, all within walking distance – exceptional value for your Christmas party in Wellington.
💰 Approx. cost per person: $135 - $180
How can I spice up my Christmas party?
With these ten activity ideas, your Christmas party is guaranteed to be an unforgettable blend of merriment and holiday cheer!
DIY Hot Chocolate Bar: Set up a self-serve hot chocolate bar with an array of toppings like whipped cream, marshmallows, and flavored syrups. It's a delicious way for guests to customize their cozy beverages.
Holiday Photo Booth: Create a festive backdrop with props like Santa hats, reindeer antlers, and elf ears. A holiday photo booth provides a playful space for guests to capture memories and share laughs.
Christmas Carol Sing-Along: Gather your guests for a sing-along session of classic Christmas carols. Whether it's acapella or accompanied by instruments, the harmonious tunes will create a joyous atmosphere.
Christmas Trivia Tournament: Test your guests' holiday knowledge with a Christmas trivia tournament. Craft questions related to festive traditions, movies, and music, and watch as the competition heats up.
Secret Santa Gift Exchange: Organise a Secret Santa gift exchange to add an element of surprise and generosity to your gathering. Set a budget, have participants draw names, and watch as the joy of giving unfolds.
Ugly Christmas Sweater Contest: Encourage guests to don their most outrageous, festive sweaters. Host a lively contest with categories like "Most Creative" or "Most Festive," and let the laughter and friendly competition commence.
Candy Cane Hunt: Organise a Candy Cane Hunt, similar to an Easter egg hunt. Hide candy canes around the party space and let guests embark on a festive scavenger hunt.
Festive Beverage Tasting: Arrange a tasting station with a variety of holiday-themed drinks, from eggnog to mulled wine. Allow guests to sample and vote on their favourites.
Polaroid Photo Wall: Create a Polaroid photo wall with instant cameras for guests to capture candid moments. It's a charming way to document the party in a retro style and in real time.
Pin the Nose on Rudolph: A Christmas spin on the classic party game. Blindfold participants and have them try to pin Rudolph's nose in the right spot. It's a playful activity for all ages.
How do you plan a fun Christmas party?
Planning a fun Christmas party in Wellington is a breeze! Start by choosing a unique theme that resonates with the sunny vibes of the season. Consider the preferences of your guests and tailor the activities to create a festive atmosphere. Collaborate with local vendors for catering and decorations to add a touch of Wellington's charm to your celebration.
What can I do to make my Christmas party special?
To make your Christmas party in Wellington extra special, focus on the details. Personalise the decorations with a touch of Kiwi flair, incorporate local flavours into your menu, and consider unique activities that resonate with the vibrant culture of Wellington. Encourage guests to share their favourite Christmas memories and traditions, fostering a sense of community and connection.
Ready to book your Christmas party in Wellington?
As you embark on your quest for the perfect Wellington Christmas party, don't forget the magic that a Paintvine paint and sip event can add to your celebration. Whether you're a seasoned artist or a first-time painter, the combination of creativity and camaraderie will make your Christmas party truly unforgettable.
So, let the festivities begin, and may your Wellington Christmas be filled with sunshine, laughter, and a splash of artistic brilliance! Cheers to a season of joy and merriment!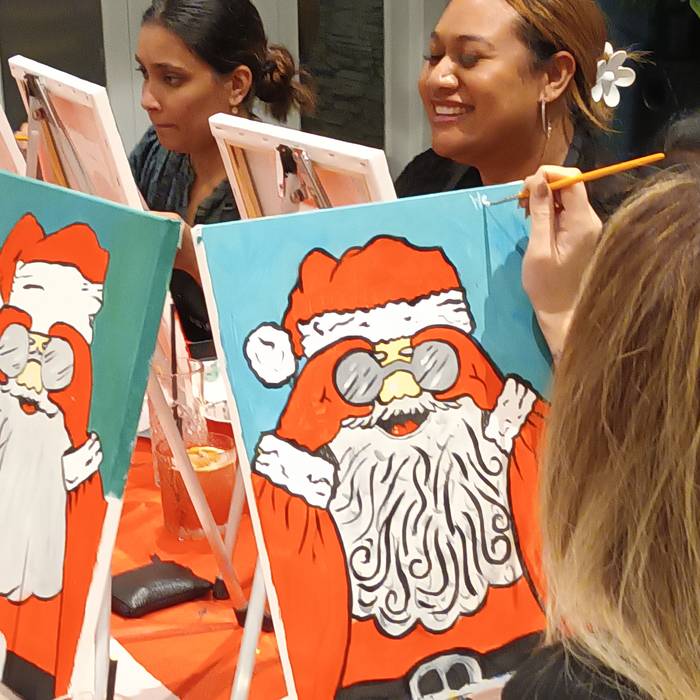 Get creative this Christmas
A Paintvine Christmas party will give your loved ones jolly memories as well as a masterpiece to take home.
Start planning